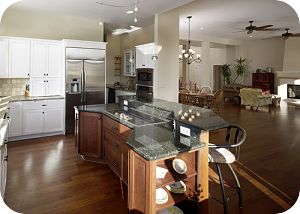 Below are the Top 5 Blog Articles from our Home Remodeling blog in 2011. If you haven't read them, today may be a good day to dive in and review the ideas and information that turned out to be the most popular amongst your fellow readers of our blog.
5. 4 Entryway Storage Ideas for Families On-the-Go
4. 2011 Remodeling Cost Vs. Value Report
3. 10 Awesome Basement Storage Ideas
2. Our Picks for the Best Bathroom Design Trends for 2011
1. 10 Hot Trends in Kitchen Design for 2011
From our analysis of nearly 100 blog articles we've written over the past two years, the most popular articles have these themes in common:
Design trends and ideas
Kitchen remodeling
Bathroom remodeling
Storage ideas
Skylights
Cost vs. Value
The least popular blog articles have been about:
How to repair things (do-it-yourself articles)
How to check or inspect things (more do-it-yourself tips)
As we plan our blog articles for 2012, we want to know what you want to read about most. So here's your chance. Please take our short survey below and tell us.
Happy holidays!