The following article is submitted by one of our long-time customers. Please read her previous kitchen remodeling project articles and follow her kitchen project on our Facebook page.
By Mary Karpinski: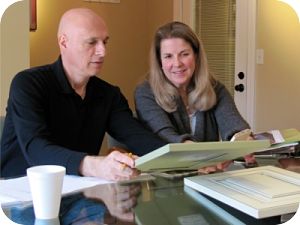 When I started my kitchen remodeling project I knew that I would be making a lot of choices. I LOVE to shop! But I am also cost conscious and look for quality and value. Aside from appliances, all of the great ideas I saw in magazines and on Websites didn't include information on pricing.
I had an "adviser" in the process of making selections, McClurg Project Consultant Vince Petralito. Vince's tastes and vision for the kitchen were a bit different than mine but together we went on a shopping expedition and found the right elements that met my expectations and introduced fresh changes that I wouldn't have considered on my own. Here's what we found:
Cabinets
Cabinets were the most expensive item on my shopping list. I was a few steps ahead of Vince and had priced some cabinet lines on my own at Home Depot and Lowe's. The quotes I received were pricey.
Vince suggested that I look at a line of cabinets that McClurg sells, Jim Bishop Cabinets. I never heard of Bishop before. I looked at samples in the McClurg offices and found colors and styles that met my expectations and budget. The cabinets are well crafted with dovetailed joining and full extension glide drawers. The style I selected was Jim Bishop "Quakerstown" in maple. The perimeter cabinets are white and the island and peninsula are cherry.
Countertops
I love the look of granite countertops but the cost can bust a budget. Vince suggested quartz. I cringed because the quartz samples I had seen in recent years really didn't appeal to me. Maybe I could afford granite for the island and use another surface, i.e. laminate, for the perimeter counters.
Vince and I went to Busch Products twice in search of countertops. On the first visit, we looked at some gorgeous slabs of granite and I took home a few samples. Weeks later we went back and found a brand new line of Cambria quartz counter surfaces that look so much like granite and marble that I couldn't tell the difference. This line of Cambria countertops took center stage at the 2011 CNY Parade of Homes because of the look and ease of maintenance.
My choice, Cambria "Praa Sands", for the perimeter looks like the granite I desired. The sheen, movement and "sparkle" are remarkable. For the cherry island and peninsula I chose Cambria "Torquay" which looks like white marble without all of the hassle (marble is porous and easily stains). Quartz is impermeable and wipes off with a wet cloth or paper towel. While at Busch, I selected a Blanco Silgranit sink in Biscuit and a 16" stainless bar sink.
Backsplash Tiles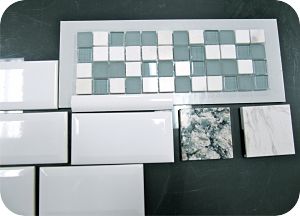 Armed with a couple of Cambria samples, Vince and I headed to Best Tile to look for wall tiles. Best Tile has the ultimate showroom with an incredible number of displays. I knew I wanted classic white subway tile for the backsplash but "with a twist". We set down the quartz samples on a table and began to search through tile boards looking for accent tile. A small board with glass and stone mosaic tile caught my eye. Vince grabbed some white tile from the shelves and we laid it out on a table with the quartz and mosaic. Bingo! It was the right combo.
Something else caught my eye in the showroom – a hand painted Italian ceramic relief tile of a rabbit standing in a garden. Vince kept his thoughts to himself as I admired it and discussed using it in the kitchen. The rabbit will be the signature piece for my kitchen.
Faucets and Light Fixtures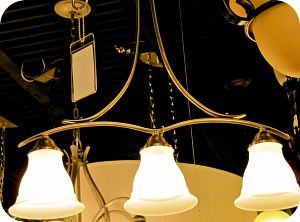 Our next stop was Ferguson's Bath, Kitchen and Lighting Gallery. Since I had selected the sinks, I could now choose faucets. We found a set of matching Moen gooseneck faucets for the main and bar sinks.
While at Ferguson's a 3-lamp hanging fixture caught my eye. I had looked at pendants but this linear fixture would provide excellent task lighting for the six foot island. I later chose two matching ceiling mount fixtures from the same line for the pantry area.
Hardwood Flooring
Flooring was my easiest choice. In Central New York, with our fluctuations in temperature and humidity, one of the best options is 2-½ inch oak flooring. While I love wide plank flooring, it can shift as a result of expansion and contraction caused by humidity and heating during winter months. I chose select red oak and Brazilian cherry for a border in the dining area. WOW! What a difference from the old beige wall-to-wall carpet that we tore out.
I can't wait to see everything together as the kitchen takes shape. I plan to take photos of all the details, especially the hand painted Italian ceramic standing rabbit relief tile.
~Mary