The following article is submitted by one of our long-time customers. Please read her previous post on Selecting a Contractor and follow her kitchen project on our Facebook page.
By Mary Karpinski:
It took almost a year from the point I seriously began planning our kitchen remodeling project to the day when the crew came in to begin construction. We had some experience in renovating kitchens in two previous homes but we worked within the existing floor plans. Our current project was a challenge because we were planning to gut the kitchen to change the space, layout, function and furnishings.

Starting the Process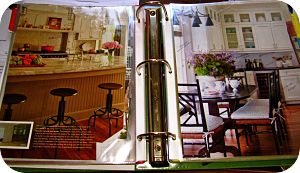 I began by collecting ideas from magazines. I tore out pictures and noted elements I liked on each photo. To preserve the pictures for future reference I put them in plastic sleeves and saved them in a three-ring binder. My favorite magazines are:
Country Living magazine. I have been a subscriber for years and enjoy the great photography, decorating ideas and information about antiques and collectibles.
Consumer Reports Special Issue: Kitchen Planning and Buying Guide. Consumer Reports provides pointers for homeowners who undertake a remodeling project. I also subscribe online and have used the information to select appliances for my kitchen. CR's testing helped me select the range, dishwasher, wall oven and refrigerator as well as the vacuum for our home. You can't test kitchen appliances in showrooms. CR does it for you.
Other resources I've used include design books found in bookstores, product literature found in home improvement stores, online manufacturers sites and the National Kitchen and Bath Association Website.
Measuring the Space, Making a Wish List and Identifying Construction Considerations
After collecting ideas, I measured the space of the kitchen and made a rough drawing with a ruler on graph paper using ½-inch as the scale. I tried to use HGTV's design software but found that it wasn't as user friendly as advertised, a $40 outlay to create a crude line drawing. They make it look so easy on television.
Next, I prepared a "wish list" for the project. I began by identifying appliances and functional cabinetry. My list included a 36" gas range with a commercial vent hood, a wall oven, a built-in microwave, a counter-depth refrigerator, an under-counter refrigerator, and beverage bar. I also wanted a pull-out pantry and an island that could be used for food prep and informal dining. And, I needed an area for litter boxes. I noted the location of these items on my drawing.
I made another list of design and construction considerations that would impact the plan such as removing a wall between the kitchen and dining room to add a peninsula and the location and measurements of a floor door leading to our basement, a circuit panel in the pantry and a relay panel. I prepared a preliminary budget based on articles from McClurg's Website. I was now ready to discuss the project with a kitchen designer and contractor.

Hiring a Certified Designer and Contractor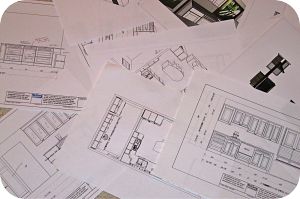 We are making a major investment in our home and recognized the importance of working with a NKBA-certified kitchen designer to create a plan for the construction team. While home improvement stores offer free design services, they train their kitchen planners and many are not certified. I make this point because certified designers have both coursework and experience that qualify them to address both structure and aesthetics. They also may come up with cost cutting ideas that you might not have thought of. In our case, this was true in working with McClurg's Certified Master Kitchen Designer.

There is a high probability that once your project starts there will be changes in your initial design and unforeseen problems (we've had several). The qualifications of your contractor are critical in implementing the design and dealing with any changes that may occur. Contractors certified by National Association of Home Builders commit to strict professional standards and ethics in the industry. A Certified Graduate Remodeler (CGR) must have both experience and completed professional courses successfully. NAHB-certified contractors are specialized in dealing with both designers and subcontractors.
We found both a certified designer and contractor when we chose McClurg Remodeling & Construction Services for our project. They are a design/build company, which means they can help you with all aspects of designing and planning your project, as well as construction.
Please share your kitchen remodeling questions and experiences.
~Mary
Follow my project by becoming a McClurg fan on Facebook.