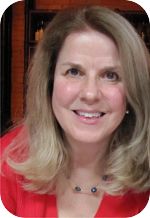 We are very excited to introduce you to one of our long-time customers, Mary Karpinski, who is starting a full kitchen remodeling project at her Manlius home. She will be sharing all of her experiences - from initial plans and design to the final walk-through - on our Facebook page and Blog. Mary, who also helps us with our marketing programs, will show you things you will never see on HGTV and introduce you to some of our team members who are working on her project. As her project progresses over the next several weeks, she will be posting photos and comments on our Facebook page, writing a guest blog or two on our Website and responding to your questions.
Follow all the fun and excitement on our Facebook page as we take down the original walls and cabinets in her 1958 cape style home to make room for her stunning new kitchen.
By Mary Karpinski:
Five years ago my husband Steve and I packed our twins off to college. While they were away we sold our tract home and bought a large 1958 cape style home in a semi-rural area outside of the village of Manlius. The kids thought we were crazy. How could we have sold THEIR home and bought something "so Retro"?
The "God-awful" Kitchen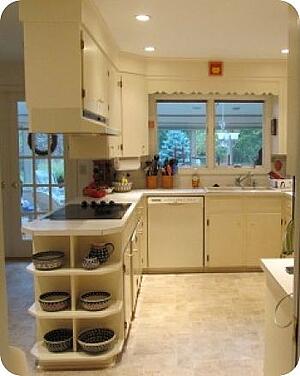 When we first viewed the home, we saw "a diamond in the rough". Steve noted that it was "a unique opportunity". The house was a well-built custom home on a 2 acre lot and would keep us busy now that the nest was empty. The kids couldn't see past the outdated wallpaper and carpet and the crammed obsolete kitchen. A new neighbor is a local realtor and one of the first questions she asked me was, "What are your plans for that 'God-awful' kitchen?"
"God-awful" indeed! The kitchen was originally designed for one cook, "the lady of the house". It was never meant to accommodate today's modern appliances like the dishwasher, glass cooktop and Jenn-aire grill added by the previous homeowners. For example, the dishwasher was located near a drawer and could not be opened when the drawer was open. The Jenn-aire grill was placed in an adjacent laundry room. The venting hood over the glass cooktop was so low that I hit my head on it many-a-time. The 1958 birch cabinetry had collected cooking odors, had faulty closures and warped in a few places over 53 years. A sunroom was built off the kitchen in the 1980s making the kitchen a central room without a direct source of natural light.
Sizing Up the Project
Steve and I are pretty handy. This is the third home we've owned. In the past we installed floor and backsplash tile, painted, wall papered, made curtains, replaced fixtures, and even served as our own general contractor for a minor kitchen update and a partial basement remodeling project. This time, however, we were smart enough to know we were in over our heads with this kitchen remodeling project.
Here's what we are facing:
The house was built prior to 1978. Lead paint mitigation might be needed.

The 110 relay electrical system was a new home product in 1958 developed by General Electric. The first owner of the home worked for the company and had it installed. It never really caught on and few electricians understand how it works.

Our plans for the kitchen included removing a wall that separated the kitchen from a dining room. It appeared to be non-load bearing but was it really? I needed to consult with someone with experience in addressing structural issues that I may not have considered in planning the space. With an older home there might be "surprises" that could derail the work.

We wanted to change the layout of the kitchen to create a functional efficient space. That meant tearing out all of the old cabinets and appliances as well as the drywall, flooring and lighting. In opening up the space, work areas would be reconfigured. New wiring, plumbing, venting and heat exchanges would be required.

We were not experienced in demolition or properly disposing of the construction debris, and there would be a lot of debris including rugs and old appliances.

Permits would be needed for the job to assure that the work was done within code.

I was "lucky" with subcontractors that I hired over the years but there were a couple of times when work was not acceptable. We are making a major investment in our kitchen project and can't afford to go to court or pay to re-do shoddy work.
Selecting a Contractor
I am a good cook but I am not a chef. An excellent chef has mastered the art of cooking. Occasionally we go out and pay a premium for a gourmet meal at a highly rated restaurant that I could never recreate at home. Such is the case in selecting a contractor. We could have planned the kitchen through a home improvement store and served as the contractor for this project. I watch so much HGTV that sometimes I think I could do a building project in my sleep, but there is a lot that goes on behind the scenes that the viewer never sees.
We knew we wanted McClurg Remodeling & Construction Services to do the project. McClurg is a design-build firm. They have been in business for over 30 years. Scott and his team had helped us with smaller projects over the years. We knew that we could trust them with a major remodeling project. They came up with options and solutions for our project that we would never have thought of. They also know product lines, distributors and subcontractors. McClurg has about 50 employees and some of the most skilled and experienced builders in the business.
If you're looking for a contractor, I highly recommend reading McClurg's consumer guide "How to Hire a Contractor".
~ Mary
Follow my project by becoming a McClurg fan on Facebook.