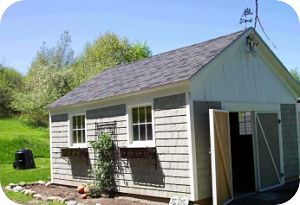 Winter will be here soon and you probably want to use the space in your garage to park your car. But what do you do with your lawn mower, outdoor furniture, grill, pool equipment or garden supplies? Outdoor storage sheds are a great solution.
Sheds can be built in a variety of forms, sizes and materials. A lean-to storage shed built on the side of a garage is a simple structure that will hold the overflow. A large garden shed keeps lawn and garden supplies and equipment in one spot. If you are storing firewood an open-sided "woodshed" will keep elements off of the wood as it "seasons" and provide a space to easily load and retrieve the wood for your fireplace or wood-burning stove. You may be planning to use the shed for storage but if you have kids they will want to take it over to create a playhouse or fort.
Here are six things you should do before adding an outdoor storage shed:
Identify the items you want to store in an outdoor shed. In planning your project be sure the items you store will not be affected by temperature changes. For example, some garden supplies should not be stored in an outdoor shed. Anything with liquid that freezes (i.e. liquid fertilizers, acrylic paints) should not be stored outside. Wood furniture or other woods that will warp, items susceptible to rust or items composed of paper that would react to both changes in temperature and humidity should not be stored in a shed. Consider the size and quantity of items you want to store.

Determine the space required for storage. To determine the square footage needed, first consider equipment and other items you'll need to store on the floor. Make a rough sketch of the shed illustrating the dimensions, height and entryway. That will also give you some idea of the wall space available for shelving, modular wall storage units, pegboards and hooks.

Determine where to place the shed. The shed should be built on dry level ground and in a location that allows you to have easy access to the contents. If you are planning to build a shed some distance from the house, refer to the land survey of your home to assure that you are not crossing property lines. You should also consult with your town about building codes that could affect where you can build the shed.

Check with your town about building permit requirements and discuss your plans with your next-door neighbors. Towns have building codes that must be considered before you can build a shed on your property. For example, you may need a permit to build the shed if the dimensions exceed 10' x 10'. You may also have to file plans for the shed with your town for approval. The building codes often require an allowance of space between your home and your neighbors. If a contractor is building the shed for you, he may be required by the town to show proof of Workers Compensation Insurance. Take the time to talk with your neighbors about your planned project and ask if they have any concerns, especially if they will have a view of the shed.

Consider your storage shed options. There are a variety of options for adding a shed to your home. Among the most popular are:
Plastic sheds. If you don't require a lot of extra storage space, you can find a pre-formed plastic shed that might meet your needs at home improvement stores. Simple to put together and relatively inexpensive, these sheds are durable and will keep the contents dry.

Pre-fabricated sheds. Pre-fabricated sheds come in kits that you will have to put together. You should first determine the size and then choose a style. The kits come in vinyl, which is the most durable, wood and metal. Metal sheds heat up in summer and would not be a good place to store gasoline, flammable chemicals, gas grills, lawnmowers or power tools requiring gasoline. Read the description of the kits to determine if it includes flooring, shingles and doors. Also read the instructions about how to assemble the shed before purchasing a kit.

Pre-made sheds. You can find pre-made sheds in home improvement stores and specialty suppliers. Things to consider include the type of flooring used for the shed (wood plank vs. concrete), insulation, electrical outlets and how the shed will be delivered. Pre-made sheds may require professional installation.

Custom-built sheds. Custom-built sheds are the best way to ensure that you'll get what you want. You'll want to consult a contractor with experience building sheds. Discuss what you plan to store and how you want to integrate the shed with your home. Your contractor could save you headaches when it comes to building a shed. A professional will advise you about the design, placement, materials to use, how to get the best use out of the shed and will obtain permits required for the project.
Plan to decorate the shed. A shed should enhance the value of your home so pay attention to its appearance. When selecting roofing for the shed, try matching the roof of your house. Paint the shed so that it will match or complement the home. Create a border garden or plant some shrubs near the shed. Make a pathway of pavers, slate, landscaping mulch or chips to connect the shed to the house.
What things would you want outdoor storage space for?