A half bathroom can be one of the easiest rooms in your home to update. These spaces are often used by guests, so give the room some "pizzazz" and make it a showplace in your home. Use your imagination and get creative in the way you decorate your half bath.
Here are eight design ideas for transforming your half bath:
1. Update the walls
Half bathrooms contain a vanity sink and toilet but no shower or tub to create steam and condensation. You can use wallpaper or faux finishes without worrying about pealing or color changes due to exposure to moisture. Wall coverings come in a variety of textures or even fabrics to create instant elegance in a guest bathroom. Use jewel-tone paint colors like deep blues and rich reds, russets or purples or earth colors to add interest. The notion of "using light colors to make the room feel bigger" really doesn't apply to these spaces. Rich colors and textures create a "jewel box" impression that will be pleasing to your guests.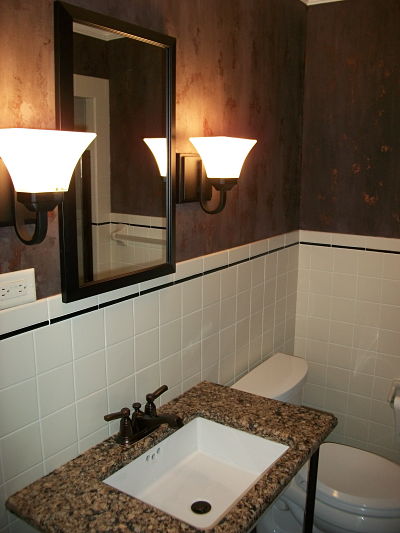 2. Patronize the arts
Show your personal style by displaying artwork in your small bathroom. Artwork doesn't have to be expensive. Frame children's masterpieces, pressed flowers, a piece of bright fabric, favorite photos or prints from the masters to add color and character to the room. If your half bath is near a kitchen, hang colorful plates or hand painted tiles. Add a small piece of sculpture as an accent if you have a shelf or the vanity counter permits. A small fine china plate or one of the ceramic bowls your child made in art class can be used to hold guest soaps.
3. Rethink the sink
Select an interesting sink and faucet fixture for a half bathroom. Half baths are seldom used for shaving or brushing teeth so installing an elegant sink makes sense. Vessel sinks have become popular and come in a variety of materials and finishes. Pedestal and wall-mount sinks are space savers and ideal for a half bath. Specialty finishes or architectural style fixtures will add "glitz" to a sink.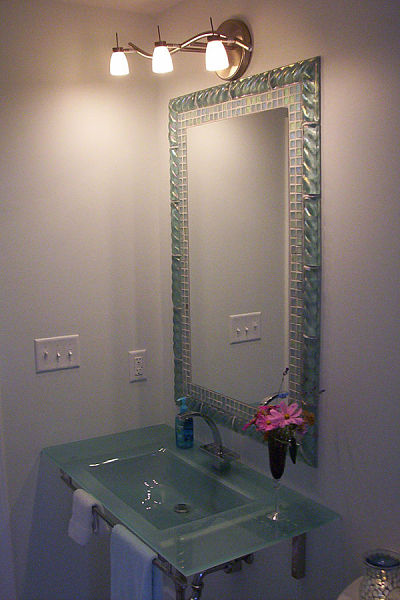 4. Give the floor a facelift
You can use hardwood flooring in a half bath because condensation is not a problem. Mosaic tiles and ceramic floor tiles work very well in small spaces. If you want to splurge try granite tile or marble.
5. Fashion an elegant vanity
A half bathroom will require smaller amounts of materials and may be a place to install more expensive vanity countertops such as marble, granite or tempered glass to add sparkle to your home. Use cabinets with rich wood finishes or a furniture style vanity. Add a tile backsplash. There are beautiful ceramic tiles to choose from but also check out recycled glass, granite and marble.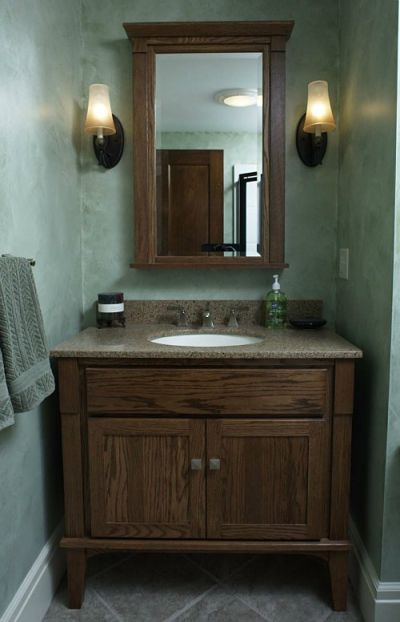 6. Light up the room
In a half bath, light is important. You may have two sources, natural light and electric light. If your bathroom has a window consider using a stained glass hanging panel or insert to add both privacy and interest to the room. A window with frosted, leaded or textured glass can be used for the same purposes. If your bathroom does not have a source of natural light consider installing a sun tunnel or strategically using electric lighting. Try hanging a small chandelier if your space permits. Wall sconces can be used to illuminate a mirror and under-cabinet lighting can be used if you have a wall cabinet or built-in cabinet.
7. Find a great mirror
A mirror creates the illusion of making a small space seem larger than it actually is. It also reflects light in the room. You could create a mirrored wall in the bathroom or use a mirror in an elegant frame. If you're looking for a mirror with a "wow factor" check out lighting stores. Yes, lighting stores. You will find mirrors that match or complement lighting fixtures in a variety of styles from traditional to contemporary.
8. Use fabric to bring color into the room
Expecting company? Need a quick way to update your guest bath? Add a colorful rug, window curtain or hand towels. These simple touches can create a big impact in your bathroom.
Editor's note: This post was originally published on October 4, 2011 and has been updated to provide information about the latest trends and design ideas.