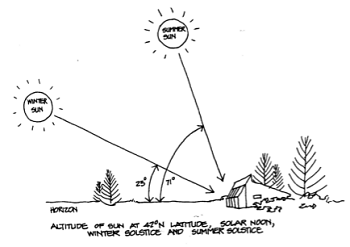 Many homeowners can save on their energy bills by incorporating some very basic elements of passive solar building design into their remodeling plans.

The key to passive solar heating is to take advantage of the local climate. One way you can improve the efficiency of your home is by installing skylights and south facing windows. Skylights allow heat from the sun to enter the home during the day.
Here are four things to consider in planning your remodeling project with skylights:
Window placement. To maximize solar heat efficiency, skylights should be placed where there is a southern or western exposure. The angle of the roof is also important. A low slope will produce the most heat in the summer and the least in the winter. It is important to angle with window so that you can attain warmth in the winter and keep your home comfortable in the summer. A general rule of thumb for the placement of a skylight is to note the degree of geographical latitude of where your locale and to add 5o to 15o to that number to determine the optimal angle for you skylight. Some skylight manufacturers now make tilted bases that make it easy to achieve the desired angle.

Glazing. Skylights are often designed with multiple layers of glazing that can have inert gases like argon or krypton gas between their layers. They also may be covered with a low-emissivity or spectrally selective films to help block solar heat gain and reduce heat loss through radiation. These films may reduce the level of light the skylight allows into the room and the amount of solar heat gain, which is not beneficial in the winter. There are films that block ultra-violet rays which can cause fading to fabrics, furniture and flooring. Special glazing to withstand heavy snowloads, like those we experience in Central New York winters, is also available.

Thermal insulation. Look for EnergyStar-rated skylights. EnergyStar has set energy efficient performance criteria for skylights based on climate. The criteria considers:
Quality frame materials that insulate and reduce heat transfer.
Low E glass coatings that maintain heat in winter and refract heat in summer months
Gases used between panes that insulate.
Warm edge spaces that reduce heat transfer through the window.
Multiple panes that insulate.
Shading. Passive solar heating must also address comfort in the summer. Using shades over the skylights will prevent heat from entering the room during summer and from escaping from the room at night in winter. Shading can also be addressed through landscaping by placing skylights in areas that are shaded by deciduous trees in the summer and which lose their leaves in the winter to allow sun on the roof to warm the room.
When you add skylights to your home you may qualify for a tax credit. For 2011 there is a tax credit equal to 10 percent of the product cost up to $200 if the product meets EnergyStar standards, with a lifetime limit of $500. These tax credits may also be applied to Sun Tunnels which can be installed to bring natural light into your home.