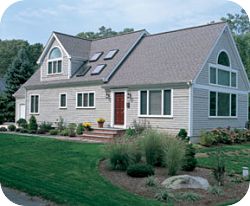 Homeowners often ask us how they can save energy and about products that are eco-friendly. You don't have to go to extremes to reduce your carbon footprint. Some simple lifestyle changes and consumer choices will help you to save money and conserve the environment.
Energy Saving Lifestyle Changes
Reduce the temperature of your home to 68 degrees during the day and 65 degrees at night.

Use warm or cold water when washing your clothes.

Replace incandescent bulbs with compact florescent light bulbs.
Energy Saving Products
If you are updating or remodeling your home look for ENERGY STAR-rated products. These products use 10 to 50 percent less energy and water than standard models.
According to the National Association of Homebuilders, homeowners can save on their energy costs and protect the environment by making the following changes in their homes:
Install maximum insulation. Adding insulation is an effective way to increase energy efficiency. Insulation is rated by its ability to resist heat flow, "R-value." The higher the "R-value" the more effective the product is in resisting heat flow. The advantages of maximizing insulation include more efficient control of temperature and cost savings on utility bills.

Install high-efficient windows. ENERGY STAR-rated windows have two or more panes of glass, warm-edge spacers between the panes and thin layers of metal or metallic oxide deposited on the windows to reduce radiant heat flow.

Install low-flow water fixtures. Low-flow fixtures include toilets, faucet aerators and showerheads. By using these products you can save up to 25 percent of the water used by conventional products.

Upgrade your hot water tank. Replacing an electric water heater with a solar model can reduce costs by 80 percent and there are tax incentives to do so. Over 20 years, a solar water heater will prevent more than 50 tons of carbon dioxide emissions. Tankless water heaters provide hot water on demand rather than storing it and ENERGY STAR-rated tanks will reduce your energy bills. Wrapping insulation around your heater can reduce standby heat loss by 25 to 45 percent.

Purchase the most energy efficient HVAC (heat, ventilation and air conditioning) system you can afford. ENERGY STAR HVAC equipment can reduce your heating and cooling costs by 10 to 30 percent over conventional equipment.
"Green" or Eco-friendly Products
Residential Design + Build magazine recommends the following "green" products when you are considering home improvements:
Formaldehyde-free lumber products
Check out some of these products before you start your next home remodeling project.

What energy saving or green products have you installed in your home?