We are often asked about kitchen countertops, including new products to the market. If you are remodeling or replacing kitchen countertops in your home, new products to consider include wood, PaperStone, copper, glass, concrete and products made from recycled materials.
Here is the latest information on new kitchen countertop products (I'll talk about traditional countertop products next week):
Wood
Butcher block has been commonly used for kitchen countertops but there are many other wood countertop products that offer an attractive option for counter surfaces. These countertops are available in many different types of wood and there are plenty of choices for stains, finishes and grain direction. Wood surface products are generally less porous than stone.
Caring Tips: To clean a wood surface, use a mild soap. A mild vinegar solution can be used to disinfect the counter. Maintenance requires the wood to be wiped with oil every two to three years depending on use. Never use ammonia products on wood. While the wood countertop is heat resistant, it may be wise to place a trivet under a hot pot to prevent discoloration and scorching.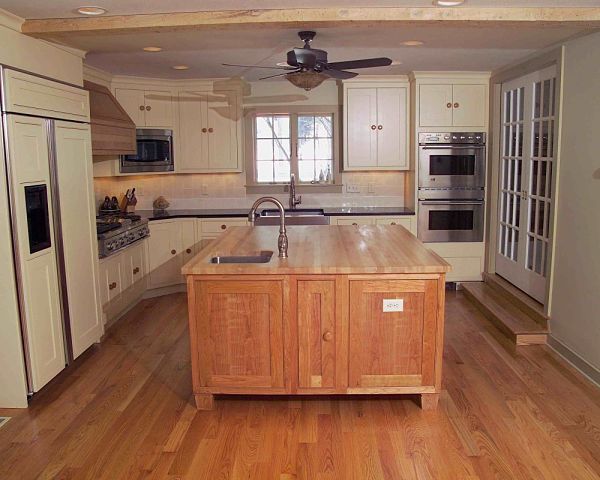 This kitchen is part of an addition and includes both painted and natural mission style cabinets. The island includes a butcher block countertop with a built-in prep sink.
PaperStone
If you are looking for an environmentally friendly countertop product you may want to consider a sustainable product called PaperStone. PaperStone is made from 100 percent recycled paper that has been saturated with resins and selected natural pigments. After trimming to length, resin-saturated sheets are stacked and moved into a press where they are fused together under heat and pressure.
Caring Tips: According to the manufacturer, "PaperStone's non-porous surface provides a lifetime of stain resistance and it absorbs virtually no water. Surface cuts or mars may be sanded or rubbed out with an abrasive pad and treated with PaperStone Finish. PaperStone is extremely rigid and dense, lending to additional applications beyond countertops such as furniture, vertical panels and partitions, signs and cutlery handles. Its superior strength allows innovative cantilevered designs up to 18-inches of unsupported overhang when using 3/4-inch material. PaperStone emits no radon gases and is VOC-free. It is heat resistant to 350°F and has been certified 'food safe' by the National Science Foundation."

Copper
Copper countertops have been used in restaurants, particularly for bar areas, and in homes that incorporate an Old World design style. Copper comes in sheets and can be fabricated to cover most any surface. It is heat, mold and mildew resistant. It is renewable, repairable and is seamless in appearance. The downside is that it is vulnerable to scratches and abrasion. Copper can be fabricated into tiles to form an elegant backsplash. It is also used for vent hoods over stoves.
Caring Tips: Caring for copper countertops is easy. Just wipe the surface down with a soft damp cloth and a mild detergent. Wax the surface with bee's wax or butcher's wax every six month. Use a cutting board when preparing food, never cut directly on the surface and use a trivet when placing hot items on the counter to prevent discoloration.


Glass
Glass countertops are making their way into more kitchens and bathrooms. First, glass is beautiful. Second, it is eco-friendly. And third, it is durable.
Caring Tips: Glass is easy to clean. It comes in various thicknesses and the thicker the glass, the more durable it will be. Glass is scratch, stain, mildew and heat resistant. It provides a great look if your style is modern or to create a tiered island or peninsula. 


Concrete
Concrete countertops are being used in more homes due to concrete's durability, design options and sustainability. It can be shaped and stained in many styles and colors. Glass pieces can be added to concrete to create a quartz-like look. When concrete is waxed, it looks like stone. For more information, download "Concrete Countertops" by The Concrete Network.
Caring Tips: The key to caring for concrete counters is to apply a protective sealer to the surface. Use a mild soap or Simple Green to clean it, never use an abrasive pad. Do not cut directly on the surface and use a trivet under hot pots and baking dishes to protect the surface.


Recycled Materials
Countertop manufacturers are beginning to develop products that use recycled materials. One interesting product is ECO by Cosentino which uses materials that otherwise would be disposed of in landfills such as mirrors salvaged from houses, buildings and factories; glass from windshields, windows and bottles; granulated glass from consumer recycling practices; and porcelain from china, tiles, sinks and toilets. ECO is a durable countertop material. It is scratch, stain, heat and mildew resistant and comes with a 10-year warranty.
Caring Tips: ECO cleans easily with soap and water.