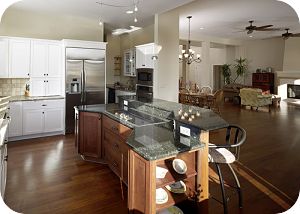 Many of our customers look to books, magazines and even HGTV, for ideas about remodeling their kitchens. Often they'll talk to us about things they've seen or ask us for our thoughts about kitchen design. Here is our top 10 list of kitchen design trends that you may want to consider if you're planning to remodel your kitchen in 2011.
Stick with the basics. Stainless steel appliances, granite counter surfaces and hardwood floors continue to be favorite features in kitchen design. Consider installing a range with double ovens.
Maximize food prep and dining space. Dual islands, tiered islands and island/peninsula combinations provide space for preparing meals, dining and storage. Pull-out cutting boards and tables can also help to extend food prep space.
Plan functional storage space. Kitchen storage details are important. Add pull-outs to ease organization of your dishes, pots, pans and bake wear. Pull-out pantry units organize cans and dry goods and drawer storage is the key for keeping utensils in their place.
Use cabinets to create interest in the kitchen. A trend that we're seeing more in homes is the use of two tone cabinetry in the kitchen. For example, white cabinetry may be installed around the perimeter of a kitchen and dark wood-stain cabinets are used for an island or peninsula. Add glass door cabinets to quickly spot items stored and for display. Open-shelving can be added to your cabinet configuration for both display and storage.
Add under-counter appliances for convenience. Microwave ovens, wine coolers, small refrigerators for beverages and additional cold storage and drawer dishwashers add function to a kitchen. Think about "universal design" when installing appliances for convenience and place appliances where they can be accessed by all users.
Think "Green". A simple way of helping the environment is to purchase Energy Star appliances. If you're interested in a "green kitchen" consider using sustainable products like bamboo flooring, concrete counters, recycled glass back splash areas and recycled wood.
Add a backsplash. Glass tiles, especially those made from recycled glass, are being used more in kitchens for an easy to clean aesthetic backsplash behind sink and stove areas. Backsplashes are also made of solid surface materials, porcelain tiles, laminate and metal. Plan your backsplash to accentuate your style - modern, traditional, cottage, country, Tuscan or eclectic.
Consider crown molding. Adding crown molding to a kitchen provides a "finished" look to cabinetry but also add architectural interest to the space.
Combine your kitchen and dining room areas. A dining room is often one of the least used rooms in a home. If your floor plan permits, tear down a wall that separates a kitchen from a dining room and open up the space to add function to your home. The expanded space may allow you to add more storage to the kitchen or even an office area.
Add under cabinet lighting. LED lights and compact florescent lights are energy efficient and can easily be placed under cabinets to illuminate work space and brighten the overall lighting of the kitchen.
What do you think will be a trend in kitchen design this year?