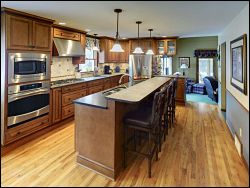 If a kitchen remodeling project is in your future, planning may seem overwhelming. Most people look at magazines and showrooms but find it hard to start their project. If you feel overwhelmed, you're not alone. Just take a deep breath and take your time. There's no need to feel pressured. Some of our customers have taken a year or more planning and reviewing details before starting their remodeling project.
So, where do you begin? When we meet with customers we begin by asking a variety of questions designed to help us (and them) understand how they currently use their kitchen, what problems or obstacles they have with the current layout, and what they'd like to do differently in their new kitchen. We also help them set priorities which will factor into the project budget.

Here are some of the key questions that'll help you start planning your kitchen remodeling project:
How many people are in your household and how will they use the kitchen? If you are a working couple, it may be important to have a message center in your kitchen. If you have children, they may need a place to dine informally and perhaps do homework. Don't forget to include your pets. You may need a place for pet food dishes and, if you have a cat, a litter box.
Who is the primary cook? That person will want to specify how the kitchen should function for preparing meals and entertaining. The height and way the primary cook works in the kitchen, and whether he or she is left-handed or right-handed, should be factored into the design of the space and placement of cabinets and appliances. Should you design the kitchen for more than one cook?
How do you use your current cabinet storage space? What do you store, i.e., types of cook ware, utensils, dishes, food, cleaning supplies, etc.? How much do you currently store in your kitchen? Do you envision storing less, more or about the same?
Do any family members have physical limitations? If so, what accommodations will they require? Consider Universal Design and Aging-in-Place recommendations.
What type of cooking do you normally do? Heat and serve meals? Bulk cooking on weekends and freezing meals to be consumed during the week? Full course meals? Vegan meals? Gourmet or ethnic meals?
How often do you entertain? Are the meals you prepare for guests formal or informal? How many guests do you normally accommodate?
Is your kitchen a place for socializing? If so, how?
Where do you plan to sort recyclables? Will you need space in the kitchen or do you prefer to sort recyclables in the laundry or garage?
What type of feeling would you like your kitchen space have? Design tastes can be contemporary, traditional, country, formal, industrial etc.
What other activities will take place in your kitchen? Will you need space for dining, homework, a desk, a laundry area, a wine bar, a greenhouse window for growing plants?
How often do you shop for food? How much space do you need for refrigeration and food storage?
What do you

dislike

most about your current kitchen?
What do you

like

most about your current kitchen?
Consider these questions and make notes to share with your contractor and/or kitchen designer to help them plan and design a kitchen that best meets your needs.
If you're planning to remodel your kitchen, what questions do you have about starting your project?