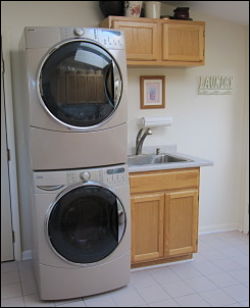 A laundry room can be one of the most cluttered and active rooms of a home. It should be organized to make it as efficient as possible. In addition to washing clothes, folding, ironing and sewing, a laundry room can be a space for crafts and hobbies or a home office. It can also be part of an entryway or housed in a closet.
Think about the way you plan to use your laundry room. Organize the space the way you would a kitchen. Note the location of your washer, dryer and sink. How can you create a place for air drying, folding clothes and storing supplies? Consider the following storage solutions to control clutter and organize your laundry room:
Washer and dryer with pedestal storage. Manufacturers of washers and dryers have responded to consumers' storage needs by offering bases which include storage drawers. Pedestal units raise the machines to enable the user to load and unload laundry with ease and feature pullout drawers for storing laundry supplies.
Stackable washers and dryers. Stackable front loading washers and dryers can save space in your laundry area.
Energy efficient front-loading washers and dryers with controls on the face. These washer/dryer combos fit under a counter, which provides space for folding clothes and storage.
Custom cabinets. Base cabinets, cupboards and drawers in a laundry help organize supplies and reduce clutter. Customize storage for an ironing board and iron to store them out of sight. Add pull-out hampers to sort clothes by color or baskets on sliding shelves to provide ready access to cleaning products. Pull-outs can be installed for sewing machines and ironing boards.
Desk area. A desk in a laundry room can serve many functions. It can be a place for mail, bill paying and organizing other household activities. A desk can also provide a surface for sewing, crafts, flat drying and folding clothes.
Create an island. If you have the space, add a table to your laundry room or better yet an island with base cabinet and drawer storage or a place for a stool.
Open shelves. Open shelving provides quick access to laundry supplies and other essentials.
Closet rod or door hanger. A closet rod can be installed in a small space for hanging clothes when you need to iron or air dry clothes. If you don't have the space to install a rod, try a door clothes rod which will hold clothing on hangers or hooks on the back of cabinets.
Add a towel bar. Towel bars can be mounted on a cabinet over a sink for drying hand washed items or on the side of cabinets to hang hand towels and rags used for clean up. If you are placing a towel bar under a cabinet, try to allow space for hangers so that you can dry several items at once.
Wall organizers. Wall organizers are available for storing ironing boards, paper towels, mops and brooms.
How do you "tame" your laundry room clutter?