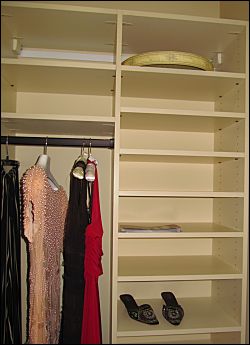 If you're planning to add or remodel a bedroom, or just need to better organize your personal belongings, think about storage options.
The bedroom is where we store a lot of our personal "stuff". Clothes, shoes, accessories and jewelry are the obvious things. Then there are the "other" things, which may include books, magazines, trophies, toys, family photos, luggage, souvenirs, etc.
The more we keep and save, the more it becomes a struggle to keep order in the bedroom.
To tackle the clutter, take a quick inventory of the things you store in the bedroom. Start with clothes and organize like-items. Count things that hang in your closet such as jackets, pants, shirts, dresses skirts, belts, ties, scarves, purses and coats. Do the same for shoes and clothing items that you store in dressers. Set aside things that are out of fashion or that you won't wear again. Make a list of these items for donation to a charity. If you store books in your bedroom, edit the collection. After you've pulled out items for donation, look at what you have left to store. Is your space adequate? Do you need better organization or extra capacity?
If you need to reorganize, here are some ideas for taming clutter:
Keep large drawers neat by adding dividers. Dividers can be added to dresser drawers to store ties, belts, and jewelry.
When planning closet space, allow 2 inches of space for every shirt you hang.
Double up on rods in closets. Better Homes and Gardens recommends installing a full-height rod 76-84 inches above the floor and a lower rod 36 to 42 inches above the floor. Rods should be 12-14 inches from the back wall to allow for hangers.
Heavy duty clips attached to a standard closet rod can be used to hang purses.
Keep a 2 step folding ladder in the back of your closet so that you can access top shelves.
Add hooks on the back of the door or on the wall for jackets, gym bags or towels. Wall hooks are great for storing kids' toys and sports equipment. Add colorful draw-string mesh bags to gather items and hang the bags on a hook.
Store items under the bed in special storage containers with wheels. These containers are great for seasonal items like sweaters.

Add a hamper for dirty clothes. Hampers now come in a variety of styles that actually look attractive in a bedroom or bathroom space. Some closet inserts include a pull-out hamper which is great if you have the space.

If you need extra capacity, consider buying freestanding storage units or add built-in storage:
Add an armoire. They're ideal for storing a television or for sweaters and bed linens.
Add a storage bench. Storage benches can be place at the end of a bed or near a window to provide both seating and extra storage space.
Built-in bedroom storage can solve many problems:

Built-in bookcases can keep books in order and display family photos and personal collections.

Built-in cubbies equipped with a door are a place to store toys when built into a child's room. Later, the cubbies can be used to store items your young adult child will use in college.

Built-ins are not confined to wall units. Built-in storage under a bed will hold several dressers full of items. Built-in storage benches add to the aesthetics of a bedroom by providing both comfortable seating and out-of-sight storage space.
How have you tackled bedroom clutter?