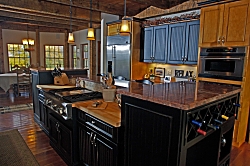 If you're planning to remodel your kitchen you've probably looked at magazines and books, visited home shows, visited showrooms, talked to friends and searched the Internet.
The Internet is a great place to do research and gather ideas. There are lots of sites to help with kitchen design ideas and information to plan your kitchen remodeling project. Here are some of our favorite sites:
Also, be sure to check out our kitchens gallery, kitchen articles and our latest blog series on kitchen remodeling:
Another good local resource for ideas and information is the 2010 Central New York Parade of Homes. Sponsored by the Home Builders and Remodelers Association of Central New York, this year's event will be held from September 11 through September 26 at The Villas in Mallards Landing, Manlius, NY. Eight new homes will be on display showcasing some of the latest products and most current trends in home design.
What are your favorite kitchen sites?