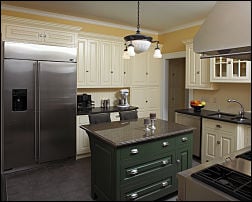 When work begins on your kitchen remodeling project you and your family don't have to starve but you will have to make other arrangements for meals, especially if it will take several weeks or a month or two to complete the job. Eating out every night is an option but an expensive one.
The key to surviving the construction phase of your project is to plan ahead. It's also important to talk with your contractor about your plans and any special family needs.
Here are some tips to help you and your family survive:
Set up a temporary kitchen. Find a space, preferably with a sink, like a laundry room or basement that will be out of the way of construction. Be sure there are outlets for appliances.


Keep it simple. Your temporary kitchen should be set up to prepare simple meals. You will need a microwave oven and small appliances such as a coffee maker, electric griddle, toaster, electric tea pot or electric wok if you have one. Electric woks are great for times like this because you can brown meat and cook vegetables and noodles in them. They are also easy to clean. A panini maker is also a useful appliance. A crock pot is a must have when your kitchen is out of commission.


Have other supplies on hand. These include a manual can opener, a few knives, spatulas, microwave cookware, a cutting board, plastic wrap and paper towels.


Talk to your contractor about finding a place for your refrigerator, maybe in the garage or an adjacent room so that you can use it for food storage. To help our clients we provide two burner stoves, hook up temporary sinks and ovens and sometimes set up counters and cabinets depending on their situation.


Set up an area for small appliances. Ask your contractor to help. A work station could be made of old cabinets or a piece of plywood could be used for a counter.


Minimize cooking by making meals in advance, freezing them in small portions and reheating them in the microwave.


Grill outdoors if you can and use your patio and deck furniture for dining. Simple, nutritious meals can be made on the grill and clean up is easy. Try boiling water on the grill for pasta. Put soap on the bottom and external sides of pans to keep them from charring on the grill.


Use disposable plates, cups, napkins and dinnerware.


Store food in plastic storage bags that can be thrown out after using.


Make clean-up easy. Minimize the use of dishes and keep paper towels, liquid dish soap, a kitchen towel or two, a scrubber, surface cleaner spray and hand soap near your sink area.


Keep your canned, boxed food and sauces organized in low sided boxes in your temporary kitchen. You will want easy access and to be able to see what you have on hand for meals.


Budget for eating out on the days when demolition or installing hard wood flooring or other construction activities create dust and fumes in your home. Talk with your contractor so that you will know when to plan on dining out. Clip restaurant coupons to save money.


Be patient. Remember that the end justifies the means. Your remodeled kitchen will make life enjoyable in the years ahead.
Have you remodeled a kitchen in the past? What advice do you have for surviving a kitchen remodeling project?
This is the final article in a series on kitchen remodeling. Please check out these articles: