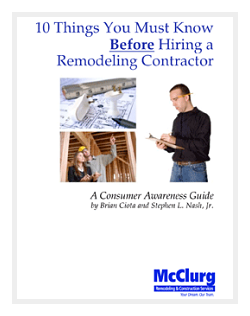 We've all heard contractor horror stories – from cost overruns to shoddy work. It's not unexpected in this industry since virtually anyone with a truck and tools can call themselves a contractor. In fact, quite a few of our customers came to us because of dissatisfaction with their contractor.
After listening to our fair share of stories over the years, we decided it was time to develop a guide to help consumers understand how the remodeling business works and to arm them with the questions they should ask any potential contractor. The guide – "10 Things You Must Know Before Hiring a Remodeling Contractor" – was developed with our friend and colleague, Stephen Nash, President of Upscale Remodeling in Ithaca.
We feel so strongly about this topic that we're making our guide available free to anyone to download on our Web site" target="_self">available free to anyone to download on our Web site. The guide comes with a handy checklist we created to assist you in planning your next home remodeling or renovation project. We hope you will take advantage of this offer – and tell your friends and neighbors about it.
Here are the topics we address in the Guide:
Part I. Steps to Successfully Hiring a Contractor
1. What makes a remodeling project successful.
2. What to look for in a contractor.
3. 21 Questions you should ask to select the right contractor.
4. 13 Questions to ask a contractor's references.
5. Factors contractors consider in estimating the cost of a project.
6. How to ensure the success of a project.
Part II. Things to Avoid in Hiring a Contractor
7. What to watch out for.
8. The 6 most common misconceptions about home remodeling.
9. 16 Questionable practices some contractors use to lower project costs.
10. Costly mistakes homeowners often make.
As always, we welcome your feedback and comments.