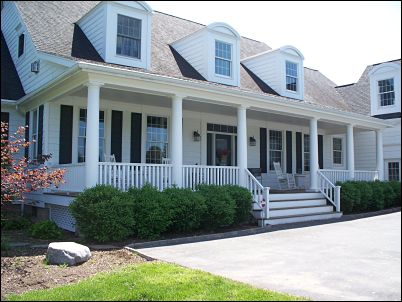 Porches are a great addition to homes, especially in Central New York where our spectacular summers are far too short. A porch can be a place for relaxation, outdoor dining or even sleeping on a warm summer night. Screened porches extend the time you can spend enjoying summer breezes by protecting you from insects.
When I drive around Syracuse, I always notice porches on older homes. Some have grand pillars and open seating. Others are screened entryways with aluminum storm doors. Home owners decorate porches with potted plants, window boxes and outdoor furniture.
While I appreciate the designs and utility of porches, I often see porches in need of maintenance. If you own a home with a porch, you'll want to inspect your "haven" for the following problems:
Rot. Porches are susceptible to rot. They are usually framed in wood and are not supported by the home's foundation. Porches are exposed to the elements - sun, rain, ice, snow and wind all which cause wood to deteriorate. Wood beams which support a porch are often the first point of deterioration. Framing can be repaired with pressure treated lumber.


Settling. Porches may settle more quickly over the years because they are not attached to a home's foundation. This can cause warped boards and shingles pulling away from the house. If left unattended settling could cause a porch to collapse. Settling is often the result of insufficient foundation support and can be resolved by lifting the porch and adding a new foundation.


Cracked boards. Wood floors can crack due to heating by the sun and cooling and moisture during the fall winter and spring. These cracks may create an area where decay can occur. The problem can be repaired by replacing individual boards or possibly eliminated by replacing the entire floor with composite decking.


Insects. Termites are not a problem in Central New York but carpenter ants can be pests and are attracted to decaying wood and can cause damage. Using insecticide will eliminate ants temporarily, but to prevent them from returning the decayed wood should be removed.


Cracked wiring and rusted fixtures. Exterior light fixtures and porch wiring are more exposed to the elements than interior wiring. Check for cracked wiring and rusted fixtures. Contact an electrician if you find problems especially if you own an older home. Have the electrician add ground fault circuit interrupters (GFCIs) to all outside circuits. Replace rusted fixtures.


Wear and tear on columns, posts and railings. Most porch columns and rails of older homes are made of wood and require regular painting and maintenance. If you have to replace them, check out reinforced vinyl, composite or urethane products.


Tears in screens. One of the best features of a porch is screens that keep insects out. Check your screens for holes. Most small holes can be easily patched for performance but once patched the screen may not look aesthetically pleasing. Most screens can be easily replaced by taking the frame to your local hardware store for professional rescreening or by stretching new screen in the opening. If tearing is an ongoing problem, you may want to install a more durable "pet screen." To optimize the view through your screens, check out the new "invisible screens."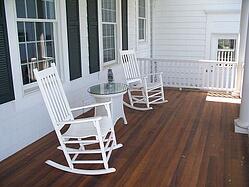 The pluses of having a porch outweigh annual maintenance. If you plan to build a porch onto your home consider the following:
The enjoyment you will experience.
New building materials are more durable and reduce annual maintenance.
A porch will add value to your home.