Decks are a great way to add outdoor living space to your home. A deck can be as simple as a grade-level platform that stands on its own a few inches above the ground or as intricate as multi-tiered structures with steps, railings, pergolas, trellises and built-in features such as tables, benches, planters and hot tubs.
This deck over the water includes concealed storage areas, a ramp into the water, an attached dock and a cut-out for an existing tree. Benches incorporated into the deck design provide plenty of seating.
If you are planning to add a deck to your home consider the following:
1. Determine Your Wants and Needs
Do you plan to use the space for outdoor dining and entertaining or with a pool or hot tub?
Will you need built-in seating? Consider storage needs too. Benches are great places for built-in hide-away storage.
Will you add planter boxes?
Do you plan to place a hot-tub in the space?
Will you include special features like a firepit or an outdoor kitchen?
How about optimizing a view? There are glass panels that can be used with decking that will give you a clear view of your yard.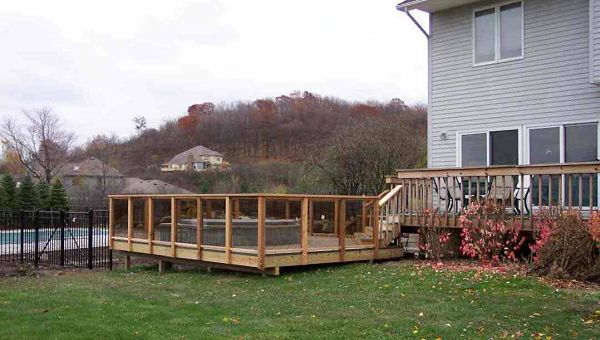 This deck was built around the hot tub for easy access. Clear panels allow full view between railing posts and allow the owners to keep an eye on the pool area.
2. Decide Where to Place the Deck
Outdoor living spaces are often built off of kitchens, living rooms or family rooms to maximize use. You should also consider sun exposure and shade. In Central New York, a deck placed on the south or west facing side of a home will optimize the warmth of the sun. If you want to avoid the sun (deck surfaces can become hot and unusable during 90-degree days) build your outdoor space in a north or east facing area. Also consider privacy.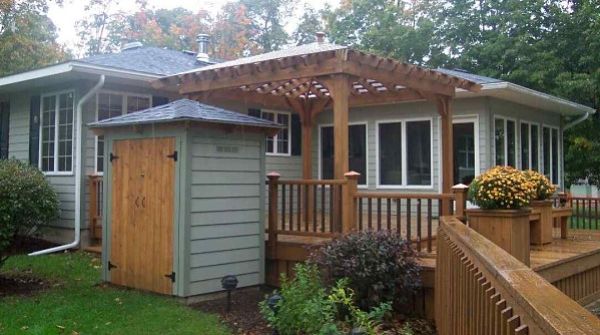 The covered pergola offers an attractive living space on the deck. A small storage building provides storage for outdoor tools and houses the in-ground pool's pump and heater.
3. Think About Size
What type of outdoor furniture do you plan to use on the deck? Measure the furniture and allow space for pulling out chairs and walking around. Include space for a grill if you plan to use one. If you will be adding a hot tub, fire pit or outdoor kitchen factor the dimensions of those features into your plan.
4. Complement the Design of Your Home
You may want to consider hiring a designer to help you plan your deck project. A deck that blends with the architecture of your home will add value. The style of your home will dictate the types of materials and accents to use in the project. For example, a contemporary style deck would look odd on a white colonial home. But a deck built with white rails and architectural elements similar to those on the house will add to its appeal. A designer could advise you on product options and how to optimize your outdoor living space.
5. Choose Materials Wisely
Homeowners have a range of options for decking materials. Consider looks, durability, maintenance and finally, cost when selecting decking.
Pressure treated wood decking remains the most popular because it is the most cost-effective and has a life of 10 to 15 years. The downside is that pressure treated wood needs annual cleaning and staining and can cause splinters.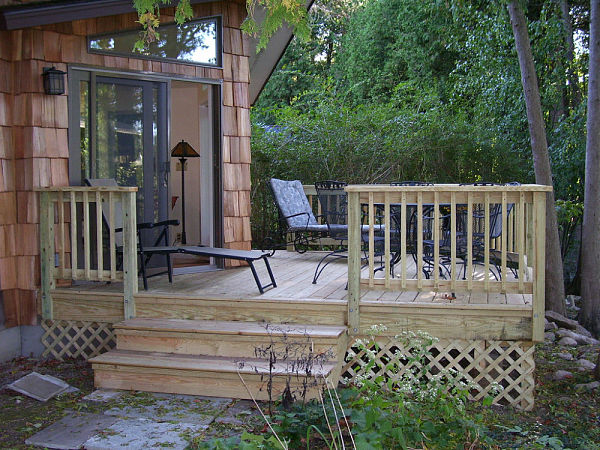 This simple pressure treated deck adds an affordable outdoor living space to this new addition.
Composite decking is more expensive than wood and holds up for 15 to 25 years. Composite decking is known for its performance, ease of maintenance and longevity.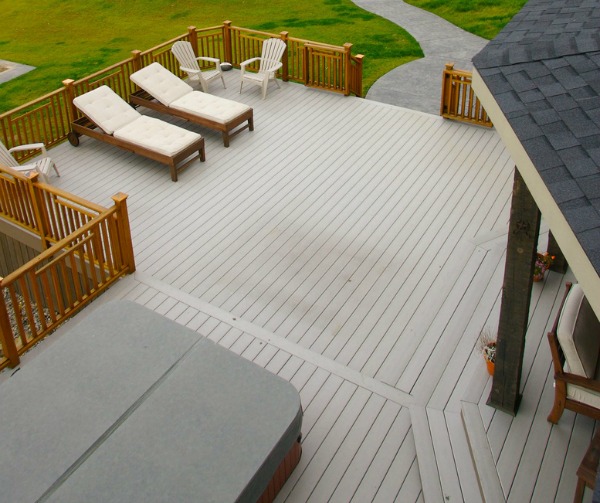 This elegant whirlpool tub was recessed below the surface of the deck to ease entry. The composite material used for the deck is rot-free.
Vinyl decking is the most durable product and has a life from 25 to 50 years. Its cost is comparable to composite and it requires the least amount of maintenance, a periodic hosing. One of the advantages of composite and vinyl decking is that you won't get splinters.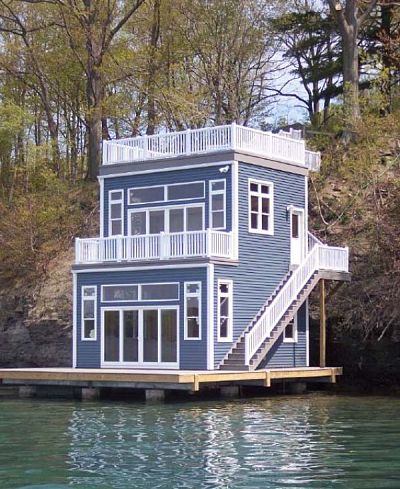 Located on Skaneateles Lake, this boathouse features vinyl siding and windows, two composite decks with vinyl rails and a large first level deck/dock.
6. Include Lighting
Deck lighting can include wall sconces adhered to an exterior wall, accent lights around the perimeter, post lights, or flood lights affixed to a roof awning or placed near the base of a deck. Put switches indoors if possible for convenience and consider using dimmers and timers. You may want to include solar lighting and a bug zapper.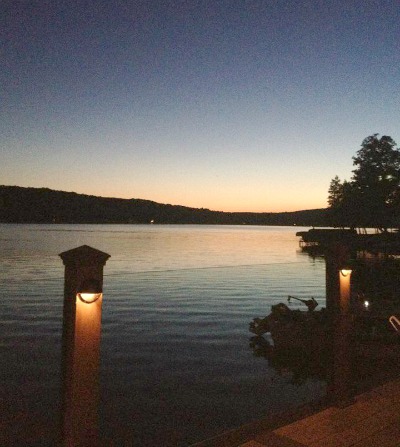 Downlights installed on balusters. Glass panels provide a view of the lake.
7. Plan Landscaping
Spending five percent of the total value of your home on landscaping can add 15 percent or more to the value of your home. If you are landscaping for privacy choose tall, easy to maintain bushes or trees which can also provide shade. If you add a trellis use climbing plants to enhance the beauty of your deck. The easiest way to add color is to place containers of showy annuals and vegetables on the deck.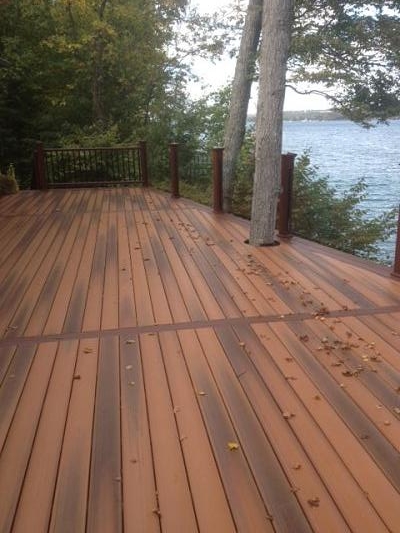 This composite deck was built over existing joists. Rubber roofing was applied to the joists to extend the life of the deck. The decking was cut to preserve the trees and clear panels were used to optimize the lake view.
8. Plan for Maintenance
Minimally, each spring you will need to clear your deck of debris and dirt. You will need to hose it off or, in the case of wood, use a pressure washer. Dirt can be removed with a stiff scrub brush and commercial cleaners. If there is mold growth, use an oxygen bleach cleaner. Wood decks will need to be stained annually. After cleaning, let the deck dry out for three days before applying stain.
May is Deck Safety Month. This is the ideal time to inspect your deck. Learn how by downloading our free 7-Point Deck Safety Inspection Checklist.
9. Budgeting for Your Project
Deck pricing will be impacted by the deck size, materials used, deck design, labor required for the job and any unusual conditions. For example, according to the Remodeling 2014 Cost vs. Value Report for Syracuse, NY1, the cost for an upscale composite deck addition consisting of a 16-by-20 foot deck which steps down to a 10-foot diameter six-sided platform and includes a bench, planter and railing system is $34,499. The cost of a midrange pressure treated wood deck addition consisting of a 16-by-20 foot deck with a bench, planter, 3-step stairs and a railing system is $9,212.
Talk with your contractor about the best way to achieve the results you desire. Keep in mind that many outdoor living projects can be completed in phases when planning a budget and your project.
1 ©2014 Hanley Wood, LLC. Complete data from the Remodeling 2014 Cost vs. Value Report can be downloaded free at www.costvsvalue.com.
Editor's note: This post was originally published on May 18, 2010 and has been updated to provide new or additional information.