Judy Aguirre, a wife and mother of two young boys, fell in her Baldwinsville home last September and suffered a broken neck which left her paralyzed and confined to a wheelchair. For three weeks she was in intensive care and she spent another 10 weeks in rehab. Throughout her ordeal, her main worry has been for her husband, Xavier, and their sons Nicolas, age 11, and Diego, age 8, who attend Reynolds Elementary School.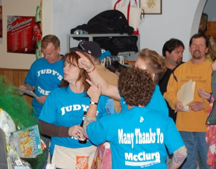 Judy's life has changed dramatically since the accident. While medical expenses were covered by insurance, rehab services, adaptive equipment and home conversion expenses were not. To address these needs, the Aguirre's family and friends held a fundraiser to purchase a used wheelchair van and pay for physical therapy.
Scott McClurg and I first met Judy and her family in February after being contacted by Judy's sister, Jen Harte. Jen had contacted us to ask for our help in adding a wheelchair accessible deck to the Aguirre's home. The meeting was not what we expected. For someone who had experienced an event which completely turned her life upside down, we were both surprised and inspired by Judy's amazingly positive attitude and outlook. We were also inspired by her family. Everyone, as it turns out, has rolled up their sleeves to help Judy, Xavier and the boys.
Scott and I felt honored to be invited to help out and joined "Judy's Crew!"
We shared our story about meeting Judy and her family with our employees and several of our suppliers. Their responses were overwhelming. They just asked "tell us what we can do to help." So, on May 19 we will begin work on a 16'x28' deck with a ramp off the back of the Aguirre's home. We will have help from Judy's new friends:
Trex is donating decking material.
Black Glass is donating glass railing panels.
84 Lumber is donating the structural pressure treated wood framing.
Skaneateles Scapes will donate footing excavation.
Liverpool Lumber will donate the fasteners and pressure treated rail materials.
The McClurg Team will provide labor.
We're still seeking a donor to provide concrete. Contact Brian if you can help - 673-2051.
We're ready to go and excited about working with this wonderful group of neighbors. The deck will enable Judy to exit her home and spend time in the yard with her boys and family. She is determined to recover from her injuries and remain an active mother.
If you'd like to track our progress as Judy's deck is constructed, please follow us on Facebook and Twitter. We'll be posting pictures and periodic updates.
If you want to assist the Aguirres, one of their biggest challenges is preparing meals for the family. Xavier works a full day and returns home to care for Judy and the boys. Judy's sisters note that it would help tremendously to have pre-made meals for the family that Xavier could reheat. Gift cards for meals are welcome. The family can also use donations to help with the cost of physical therapy and rehab. For more information contact Jen Harte at (315) 254-9171.