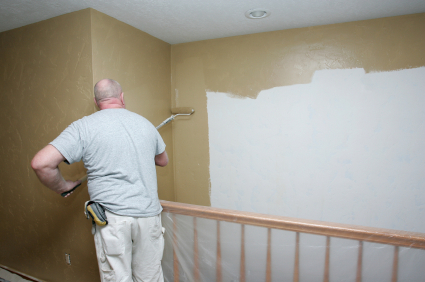 Every home needs to be painted periodically. Paint is the best way to freshen a home. Home improvement magazines and television shows make it seem so easy, but before you paint do a little research. What the magazines and TV shows don't tell you is how to select paint, how to prepare a room for painting, the tools required for your job and the steps that lead to a good paint job. They also don't tell you how long it will take to complete the job, especially if you're painting solo.
Before you buy a can of paint, take the time to ask questions at your local paint or hardware store. Their experts will advise you about the best paint for your project. Ask about the tools you will need for the job and how to use them. You may feel odd about asking someone about how to hold a paintbrush, but there is a technique to painting that the pros know to paint in a straight line and avoid drips and smudges.
Proper preparation before the paint goes on the wall will save time in the long run.
Here's how to prepare a room for painting:
Remove furniture from the room.
Remove outlet covers and put them in a plastic bag to avoid losing screws. Remove doorbell covers and chimes. Remove hardware from doors and windows.
Cover or remove light fixtures. Turn off power when doing this or working around electrical outlets.
If you are not a pro, use painter's tape around trim, door and windows. Don't forget to tape the lock at the edge of the door.
Cover the floor and furniture that you can't remove from the room with drop cloths or plastic.
Remove nails and screws from walls and fill holes with spackling compound. Fill wall cracks. Ceiling cracks will take more time and effort to repair. Let the compound dry, then sand smooth.
Scrape any loose or peeling paint.
If the surface is uneven, spread compound over the area and sand.
Dust the walls with a dry cloth, then wash the walls down. If there is grease and grime on the walls, wash the surface with trisodium phosphate (TSP). Wash the walls again with warm water to remove the TSP. Allow the walls to dry completely.
Painting should be done in steps. Most pros recommend using primer for the best results. (Hint: If you're painting the entire wall, tint primer to the color of the paint you've selected. It will save you an extra coat of paint.).
Paint the ceiling first, then walls, then the trim. Paint doors and windows last. Let paint dry before applying a second coat.