Today's technologies have produced new products for home siding that are both attractive and durable. Two popular options for home siding are fiber cement and vinyl siding. Both products have been around for a while and innovations in manufacturing have improved the performance and look. If you're thinking about siding your home, here's some information to consider.
Fiber Cement Siding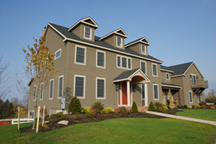 Fiber cement has been used on homes for almost a century. It was once made with asbestos added to the cement but today's fiber cement siding is made from a mix of cement, cellulose or wood pulp, sand and water. It can be shaped into a variety of siding patterns including wood-grain which makes it look like wood plank siding. Fiber cement siding has the following advantages over wood siding and all of these features make it a popular choice for Central New York homes:
It is non-combustible.
It is resistant to warping and shrinkage.
It is resistant to the elements-sun, wind, snow hail and rain.
It is resistant to insects and rot.
It requires less maintenance.
It can be easily painted and paint last up to three times longer than painted wood.
It is easy to clean.
Manufacturers offer long term warranties. James Hardie, a company we've worked with for years, offers a 30 year warranty on its fiber cement products and a 15-year warranty on the paint finish.
Fiber cement siding is earth-friendly because the production of this product does not require aggressive clearing of forests. The materials used to produce it are low in toxicity. Many manufacturers are part of the U.S. Green Building Council and National Association of Home Builders National Green Building Certification Program.
Fiber cement requires professional installation. It weighs more than wood and requires special tools for cutting. You will want to talk to your contractor about this product.
Vinyl Siding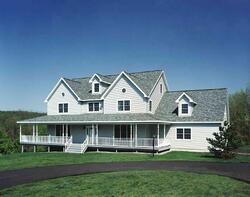 Today's vinyl siding is popular choice among homeowners because of its durability, low maintenance. The product is made of polyvinyl chlorate (PVC) a material that is strong, rigid and impact-resistant. The Vinyl Siding Institute (VSI) notes that PVC is comprised of chlorine made from common salt and ethylene from natural gas. Most of the natural gas used to manufacture ethylene is domestically produced which reduces consumption of foreign products.
Homeowners and builders choose vinyl siding for the following reasons:
It never requires painting and over 360 vinyl siding colors have been certified for color retention.
It is easy to clean. Rinse with a garden hose and wipe with a soft cloth.
Vinyl siding does not require caulking.
Vinyl siding is versatile. CertainTeed, a vinyl siding manufacturer that we use, has a range of products which are molded from wood to produce an authentic look. Vinyl siding replicates beadboard, wood-grain planks, cedar shingles, wood trims, wood shingles and cove molding. Vinyl siding comes in a broad range of color choices. Most manufacturers offer a lifetime warranty and many of the warranties offered are fully transferable and cover manufacturing defects, color and appearance.
If you are planning to have new siding installed on your home, be sure to check out these products.