If you're planning to remodel your kitchen, no matter what style, consider these trends to add function and value to your home.
1) Pull-out Storage. Roll-out shelves and deep divided storage drawers simplify kitchen organization and control clutter. Gone are the days of getting down on your knees to find a pot lid in the back of your under-counter cabinet. Deep drawers with dividers provide a place for baking trays, lids and frying pans. Pantry pull-outs are great for organizing canned and boxed foods and bottled drinks. There are pull-out units designed for storing vegetables and bread. In the sink cabinet, pull-out towel racks and pull-down drawers can be added to put pot-scrubbers, sponges and dishcloths out of sight. Pull-out waste baskets hide garbage and make retrieval a simple task. Near a range or wall oven create a baking center with roll-out shelves. Add a pull-down rack for your cookbook and a pull-up mixer storage shelf. Pull-out cutting boards are handy. Increase your work space for food prep or planning by adding a pull-out table.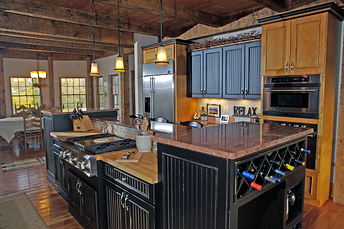 2) Tiered Kitchen Islands and Peninsulas. Multi-level islands and peninsulas add work and dining space to kitchens. Dual counter heights create food prep zone ideal for baking. One of the latest trends to create more usable kitchen space is to add a table height area to an island for eating, working or planning. Add an over-hang to an island or peninsula counter for informal eating. Instead of stools, consider a bench for seating. Geometric shapes are replacing the traditional rectangular form to maximize function of island and peninsula counter space and add style.
3) Integrating Kitchen and Dining Spaces. A kitchen is the most active room of a home. A dining room is often the most under-utilized room of the house and is located just off the kitchen. It makes sense to integrate these two areas for family gathering and entertaining. Many remodeling projects join these two spaces together by removing walls or creating half walls. Half walls can provide a pass through area or a buffet to serve both rooms. Think about how you use these spaces when planning to remodel.
4) Stainless Steel Appliances. Stainless steel appliances continue to be the top choice among consumers. Stainless steel is versatile and can be mixed and matched with other appliances - black, white and bisque. Stainless steel also blends well with a variety of wood and laminate cabinets, counter surfaces, back splash materials and flooring products. While harvest gold, avocado and burnt orange have come and gone, stainless steel appliances endure and continue to add style and value.
5) Pendant Lights. Pendant lights are lights with shades that are suspended from the ceiling by either a chain or a rod. They are decorative and address task illumination in counter, island, corner or dining spaces. Pendant lights are ideal in food prep area and over sinks. They work well in homes with high ceilings. Pendant lights can be multi-light fixtures or they can be individual units. Kitchen designers often use individual units in groups of two or three. If you are thinking about installing pendant lights, consider a dimmer switch to adjust the illumination. There are many styles and colors of pendant lights. They're chic, functional and provide a finishing touch to a kitchen.