If you're planning to remodel or update your kitchen, give some thought to the type of sink that will best meet your needs. Kitchen sinks are the most used fixture of the room. When paired with a backsplash, the sink often becomes a focal point. Your sink selection will be important to the look and efficiency of your kitchen.
Here are six great design ideas for functional and attractive kitchen sinks:
1. Stainless steel sinks remain the most popular for kitchens.
Stainless steel sinks are durable, affordable and look great with appliances. They come in a range of shapes and sizes. Some are drop-in top-mounted sinks used primarily with laminate counters. Others are undermounted with laminate, solid surface or stone counters. Dual bowl sinks are great for cleanup.
Stainless steel kitchen sinks come in gauges, which measure the thickness of the steel and determines durability. Gauges range from 14 (thicker) to 22 (thinner), although most sinks for the residential market have gauges of 18 to 20. The depth of the sink is also important. The average depth of stainless steel sinks is between 8 and 10 inches.
Racks are often sold with stainless steel sinks and may be a good investment if you plan to wash porcelain or ceramic dishes by hand. Stainless steel can sometime cause scratches on china. Racks will also protect the sink from scratches.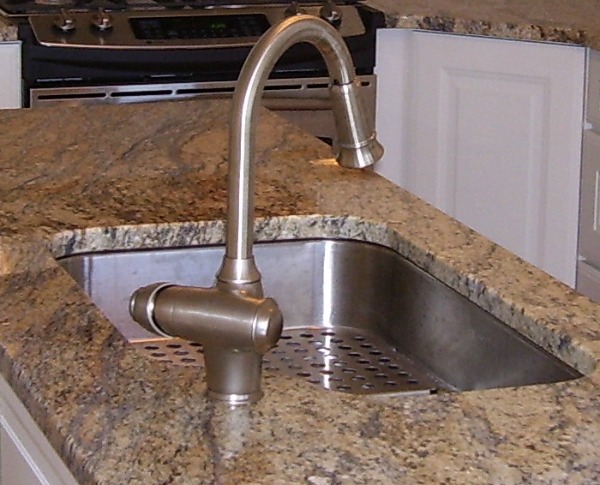 An undermount stainless steel sink on an island with a granite counter surface and brushed nickel finish gooseneck faucet.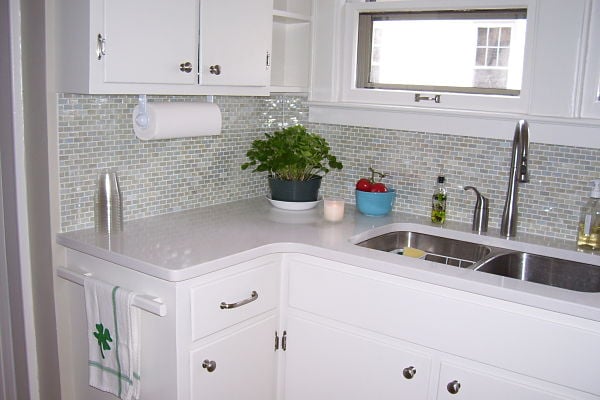 An undermount dual bowl stainless steel sink gives this remodeled kitchen a clean streamlined look and is matched with cabinet hardware. A white rack is used for hand washing dishes and protects the sink from scratches.
2. Add color with cast iron or composite sinks.
Sinks can also be matched to counters, backsplash tile or cabinets or be used as a decorative accent. Cast iron and composite sinks (granite and quartz) come in a range of colors to complement today's more stylish wood finishes and counter surface patterns.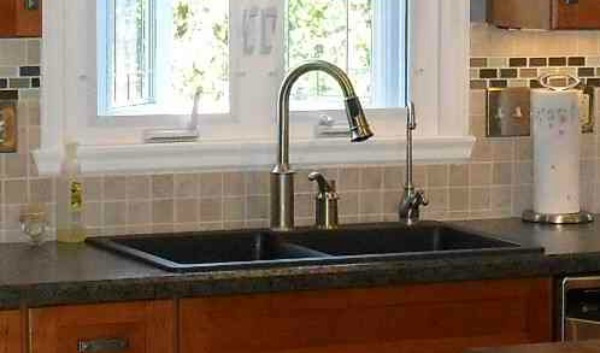 A dark brown cast iron drop-in sink blends with the laminate counter surface of this kitchen and becomes an architectural element.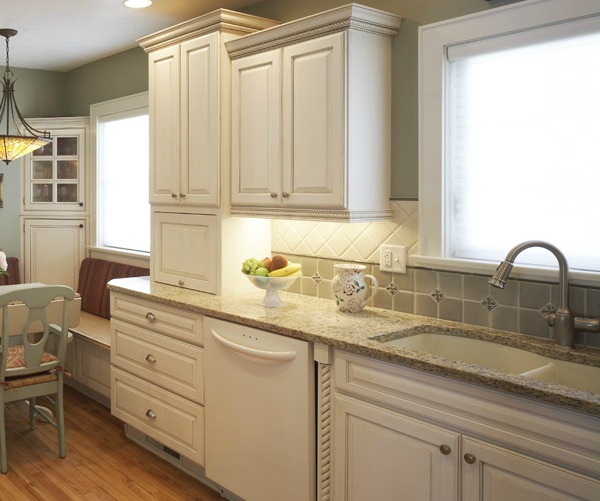 A bone white undermount composite sink complements the appliances, cabinets and backsplash tile.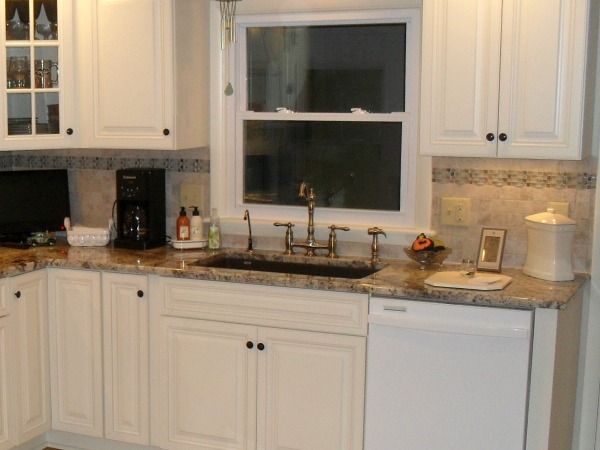 A dark, undermount silgranite composite sink contrasts with white cabinets, provides an accent color to the kitchen and complements the counters.
3. Consider the shape of the sink.
Kitchen sinks are designed for both function and style. Farmhouse style sinks with a single basin and apron front are becoming very popular. Stainless steel sinks are available in streamlined and contemporary shapes with single or multiple bowls. Composite sinks can have bowls of varying sizes and curved forms.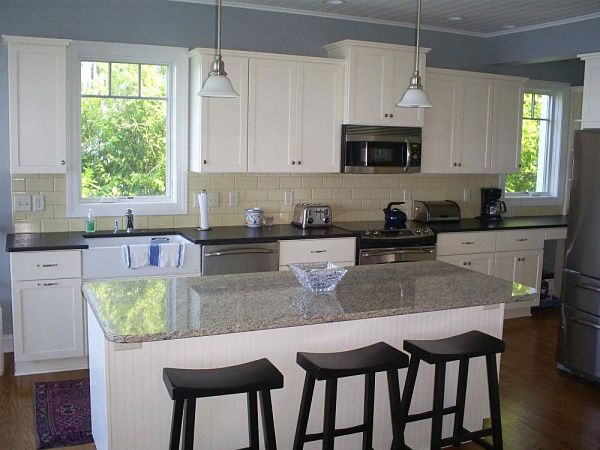 A white farmhouse sink accents a black quartz perimeter counter and complements the cabinets and backsplash in this kitchen.
4. Two sinks are better than one.
More homeowners are finding that a bar sink or prep sink in addition to the main kitchen sink is an asset for preparing beverages, washing vegetables or defrosting frozen food.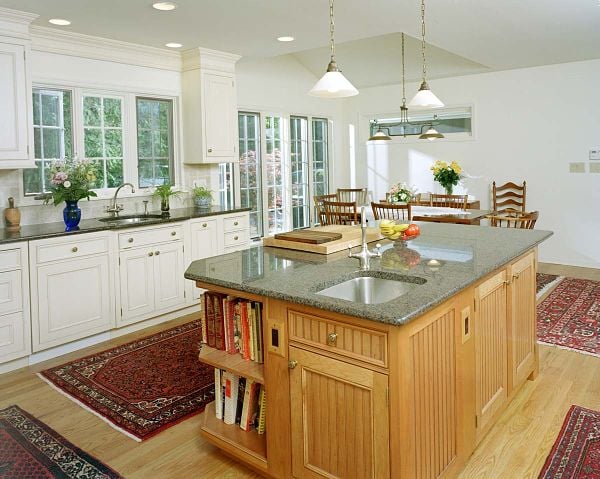 A small sink was added to an island to facilitate food prep.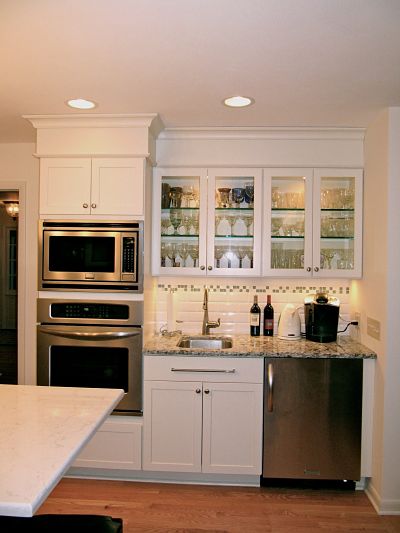 This auxiliary sink is used primarily for preparing beverages.
5. Add a main or auxiliary sink to a kitchen island.
Work areas in a kitchen are often planned in a triangle for efficiency, with the sink placed near the cooking area or refrigerator. There also needs to be adequate aisle clearance for a cook to function. Placing a sink on a kitchen island may be a good option, depending on the space of your kitchen and the way you prefer to work.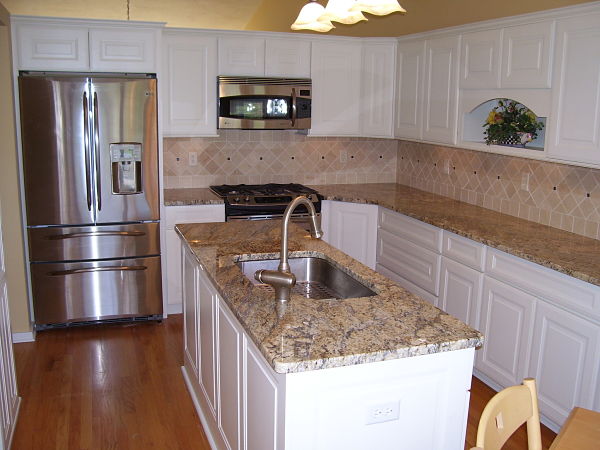 A sink was placed on an island to create an efficient work area in this small kitchen. The cook has adequate space for food prep and for transferring dishes to the range and microwave oven.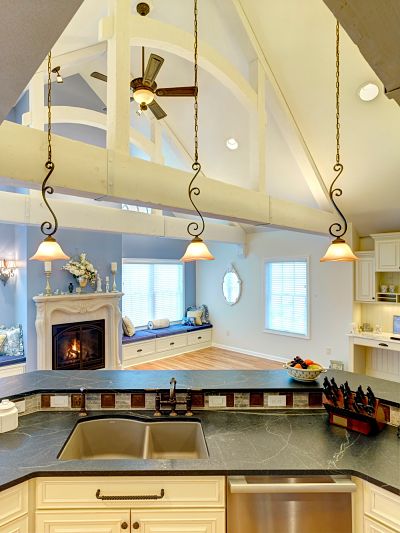 A tiered island with a sink can be multi-functional. This soapstone tiered island with a granite composite sink provides an area for seating where the cook can interact with family members and guests and an area for food prep and cleanup.
6. Add style and function with your choice of faucet.
Think about the shape, finish and placement of the faucet when you choose a sink. Do you work from left-to-right or right-to-left? Top mounted sinks have holes for the faucet and accessories such as a soap dispenser or spray. For undermount sinks, holes are cut into the counter surface for installation of the faucet and you may have options for placement. There are many faucet styles and finishes to complement your kitchen sink and cabinet hardware selections.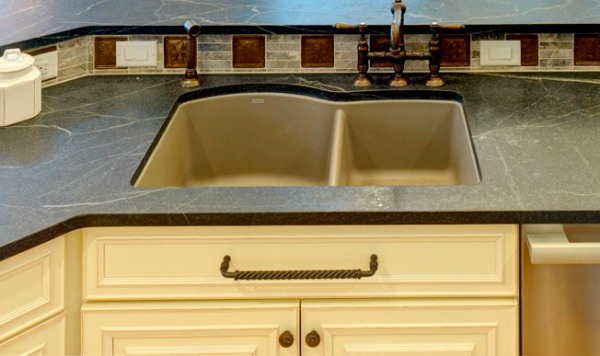 The faucet for this sink was installed for a homeowner who works from left-to-right in the kitchen. Four holes were drilled into the counter for a spray, the spout and hot/cold controls.
There are two undermounted stainless steel sinks in this kitchen with gooseneck brushed nickel finish faucets that require one hole for installation since the lever-handle control and detachable spray are part of the faucet.