The kitchen is often the most used room in any home. When the kitchen doesn't meet the needs of homeowners it's considered a "problem kitchen." Problem kitchens can be the result of poor design, lack of functionality, time worn materials, or simply an outdated appearance. There have been great strides in kitchen design to accommodate new innovations that have changed the way we cook and enjoy our homes. Kitchen appliances are more user-friendly and efficient. Food prep surfaces have changed significantly. Counter products are more durable, easier to maintain and attractive. It's not surprising that renovating or remodeling a kitchen is often high on homeowner lists of "must-haves" to add function, comfort and value to their homes.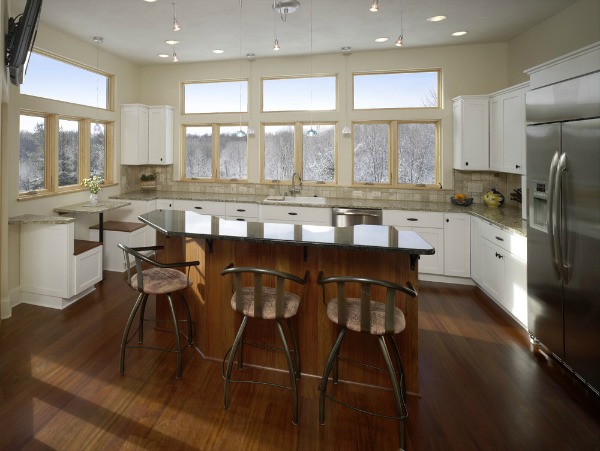 Here are five common problems presented to us by homeowners and our kitchen remodeling solutions:
Problem 1: Time worn counter surfaces, cabinet hardware, flooring and appliances.
Often cosmetic changes can transform a kitchen. New counters and a backsplash can add functional food prep space to a kitchen and complement appliances and fixtures.
Before: The cabinets in this home were in good condition. The homeowners enjoy cooking and planned to add a new stove with a microwave/hood that would provide more counter space for food prep. The vinyl flooring was beginning to show its age and the laminate counter tops, though well maintained, had sharp corners that interfered with the traffic flow in the room.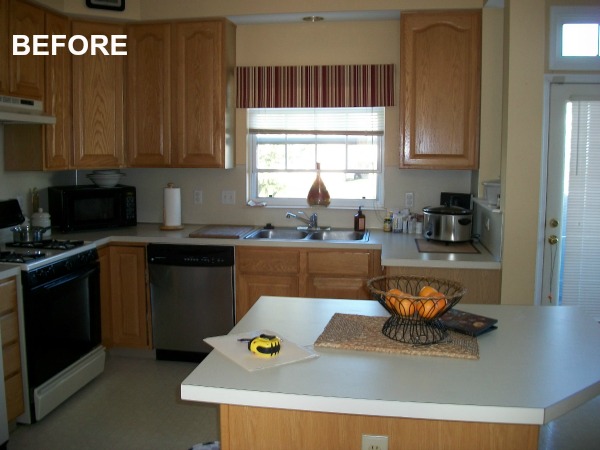 Solution 1: Replace countertops, add backsplash tile and cabinet hardware, replace flooring and appliances.
The new stove and microwave hood create a more efficient cooking area. Laminate counters were replaced with Cambria Quartz counters. The drop-in sink was replaced with a new undermount sink and gooseneck faucet with a detachable spray. A new backsplash of travertine and mosaic glass tile was installed to protect walls around the sink and food prep areas but also add style to the room. New hardware added to the cabinets and drawers makes them easier to open and will help to preserve the finish.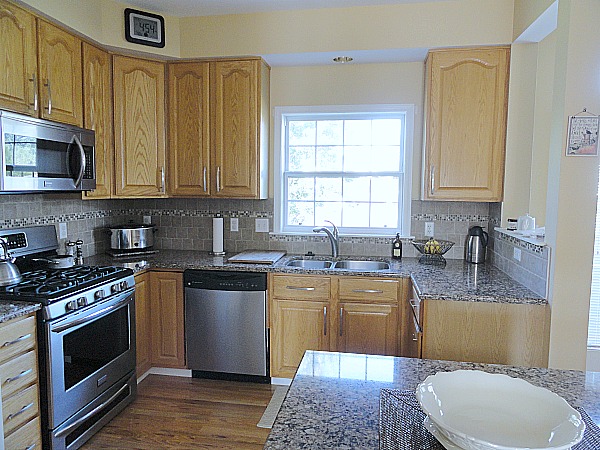 A Cambria quartz surface was also added to the island. The curved edges provide for safer movement within the kitchen and the overhang allows for seating and additional food prep space.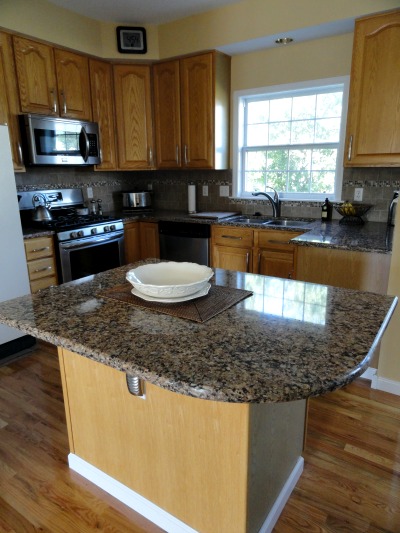 Problem 2: Inefficient floor plans that were not designed for today's appliances
and lifestyles.
Kitchens designed prior to 1970 were primarily designed for one cook. Homebuilders in the 1950s never anticipated the introduction of dishwashers, microwave ovens, under-counter appliances, flat screen televisions, mobile phones or computers.
Before: This home was built in 1958 and the kitchen was state-of-the-art for its time with a cooktop and wall oven. The builders did not include space for a dishwasher, which was later added by eliminating a base cabinet near the sink. The configuration of the kitchen presented a problem for the homeowners who like to cook together, dine informally in the kitchen and entertain. The homeowners would often hit their heads on the vent hood over the cooktop and there was no protection from hot splatters. This kitchen was originally designed for the lady-of-the-house.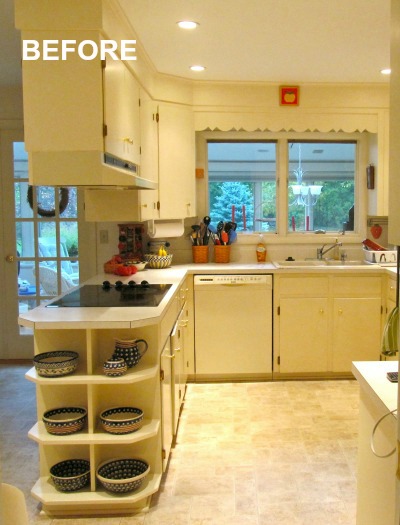 Solution 2: Redesign the floor plan to achieve the homeowners' objectives.
This kitchen was completely redesigned within the existing footprint to meet the homeowners' needs. Appliances were reconfigured along the perimeter. An island was added to provide food prep space, storage and an area for informal dining.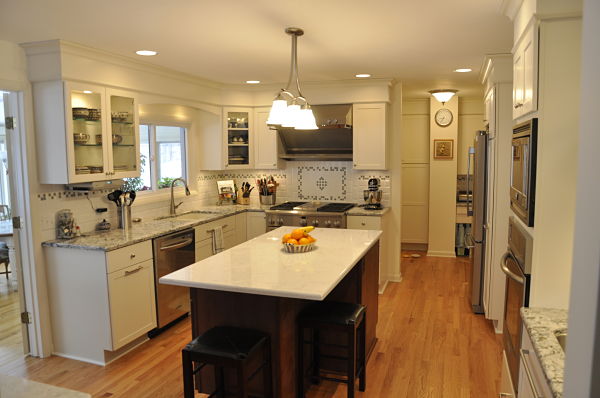 As lifestyles change, so does the way a kitchen functions. The homeowners added a beverage bar area with a second sink and an undercounter refrigerator for drinks and snacks.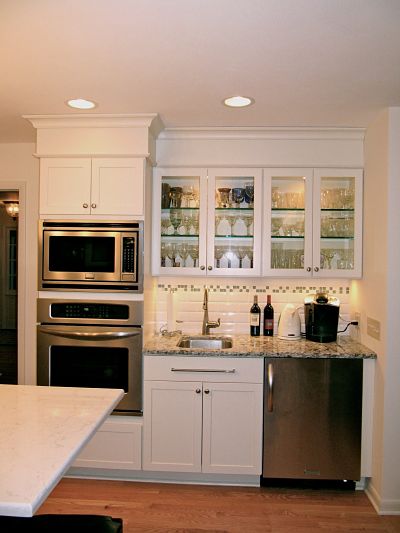 Problem 3: Confined and wasted space in a small kitchen and an underutilized
dining room.
In many older homes the kitchen and dining room are separate spaces that may be much too small to be functional. The design of modern homes often incorporates an open floor plan that integrates kitchen, dining and even family room areas. One way to solve the problem of inefficient space is to remove a wall that often separates the rooms or create a kneewall to connect the rooms visually.
Before: The owners of this home could barely move in the tiny, dark kitchen with insufficient storage and lighting. The small adjacent dining room was underutilized and became a "drop zone". While they did not need more floor space per se, they needed to use the space more efficiently.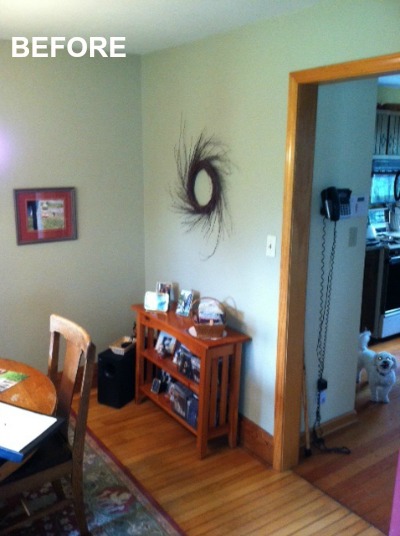 Solution 3: Remove the wall separating the kitchen and dining area.
The solution was to remove the wall that separated the kitchen and dining area. Since the kitchen needed more space for food prep and storage, a peninsula was added to serve both rooms.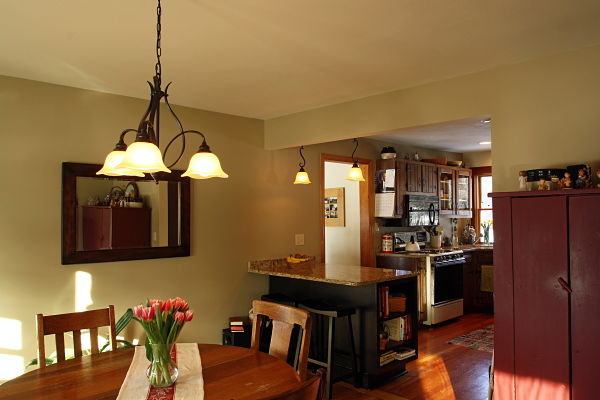 Problem 4: Not enough storage space.
Many homeowners tell us they need additional kitchen storage space, particularly pantry storage. An adjacent closet can often be converted into a pantry or tall cabinets with inserts can significantly increase storage space.
Before: Here are some solutions we found for the homeowners of the redesigned "1958 kitchen" that had inefficient storage. The back area of the kitchen had the potential for organized storage. It was formerly a laundry area with a grill, some cupboards and a closet. The homeowners wanted accessible storage for food and to convert the back area into storage for items used for entertaining such as china, large pots and pans and small kitchen appliances.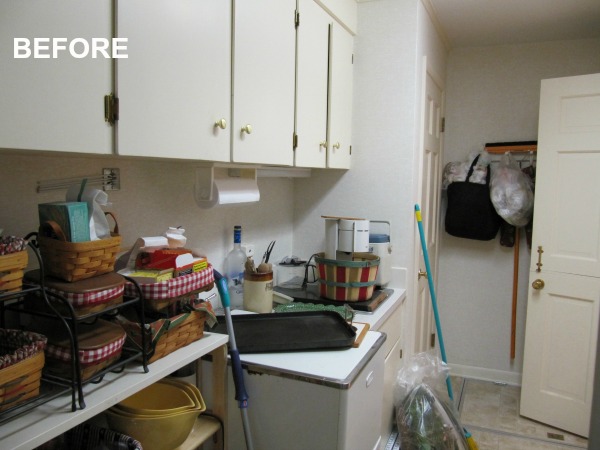 Solution 4: Convert closet space into a pantry and add a pullout storage cabinet.
We created a pullout storage cabinet for food storage and used tall cabinets to create a broom closet and provide storage for dishes, small appliances and cookware. There originally was a door in the back area that served no purpose and had been retained when a sunroom was added onto the home. We removed it, created a wall and added a stained glass window supplied by the homeowners to bring natural light into the room and provide a decorative element to the sunroom.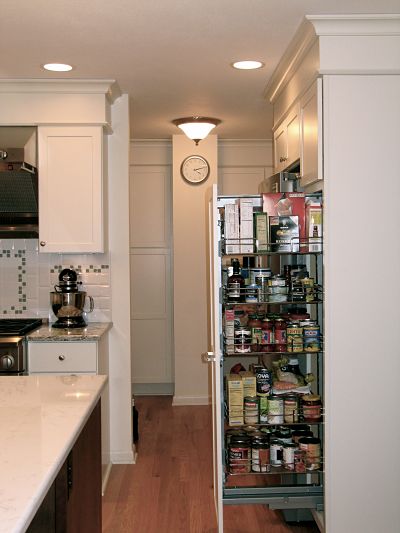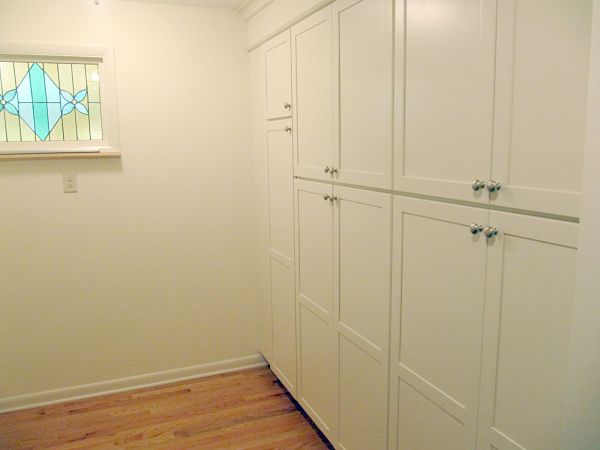 Problem 5: The kitchen isn't large enough for a growing family or entertaining.
A kitchen is often the heart of a home for many families. Sometimes there just isn't enough space. If you have a home that you love and plan to live there for a long time, a kitchen addition may be the solution.
Before. The homeowners have a growing family and a large extended family. They enjoy entertaining. For them, the kitchen did not provide enough space.
Solution 5: Design a kitchen addition.
The homeowners have an eye for aesthetics and love the elements of Country French design. Designing and building this kitchen addition was a labor of love for both the homeowners and our team.
An open concept kitchen, great room and small office were planned in the design. Special attention was given to the smallest details including the ceiling trusses, lighting and seating.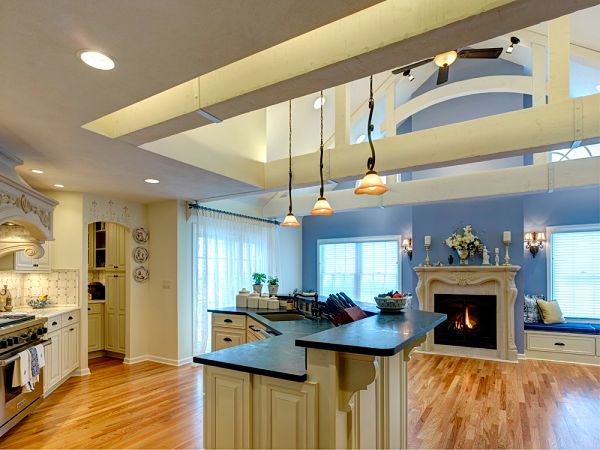 A tiered island with ample seating for informal dining was designed for everyday use for the family. There is a food prep area on the island and parents can interact with the children when meals are being prepared.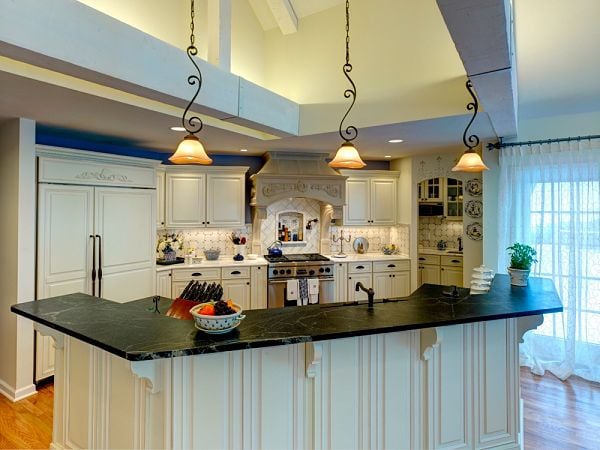 A small home office was integrated into the design to provide a place for bill paying and correspondence.