Our Project of the Month is a master bath remodel featuring a custom walk-in shower, ceramic floor and wall tile, and a new vanity countertop. The Skaneateles, NY homeowners wanted to update their master bathroom and replace an outdated neo-angle shower with a larger walk-in shower that would have more room and a seating area. They also wanted to keep a large soaking tub.
Replacing the vanity countertop was not part of the original project. However, as the tile work and finishes came together, the homeowners decided that a new countertop would complement the new colors and look.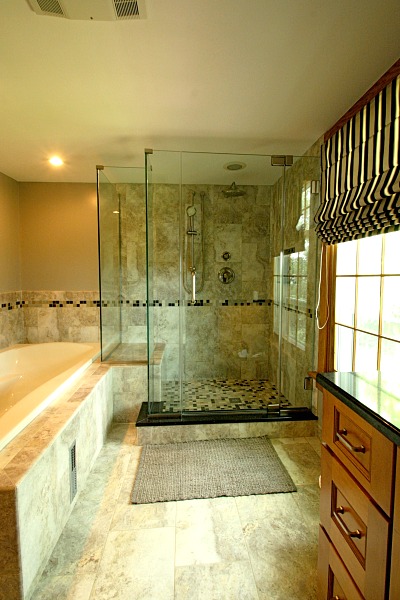 Objectives
The homeowners' objectives were to:
Create a larger shower with a seating area.
Keep the existing soaking tub but update the fixtures.
Keep the vanity cabinets and replace the countertop, sink and fixtures.
Create an open feeling to the space.
Challenges
Low ceilings. As in many older homes, this master bathroom has low ceilings. To create an illusion of the space having a taller ceiling and more openness, tile was run from the floor to the ceiling.
Salvaging the soaking tub. The design plan for this remodel accommodated the existing space used for the soaking tub. Because of its position in the room, there was plenty of adjacent space for a large walk-in shower area.
Solutions
The design plan for this master bath remodel included the following:
1. Remove the neo-angle shower and preserve the soaking tub. The old-style neo-angle shower as well as all floor tiles and the tile around the soaking tub were removed.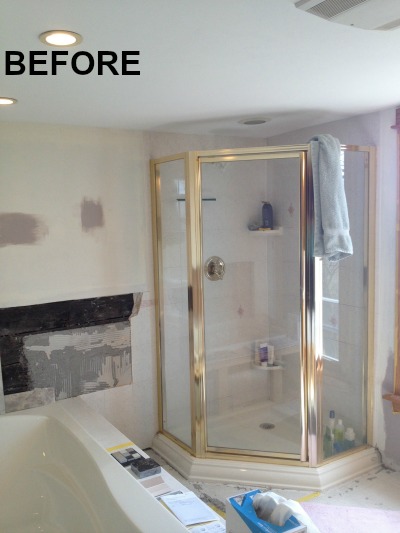 2. Install a new shower with custom glass and tile. The custom mud set shower features ceramic tile floor and walls in a classic color palate. The glass surround provides an open feel to the space. A custom niche was created in the wall to hold soaps and shampoo. The seating area complements the soaking tub and allows comfort while shaving. The hand-held shower and wall mount rainfall showerhead and fixtures are brushed nickel.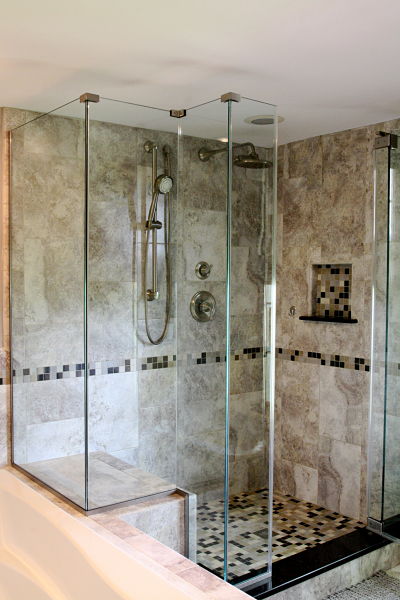 3. Reuse the soaking tub and install new deck and wall tile. The soaking tub was salvaged from the original master bath. New ceramic deck and wall tile was installed. The faucets and spout are brushed nickel.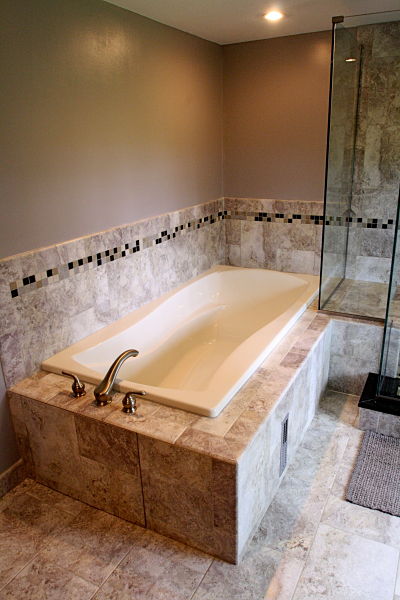 4. Create an illusion of space. The ceramic wall tile in the shower extends from the shower floor to the ceiling, which creates an illusion of space. Border tile integrates the shower and soaking tub areas.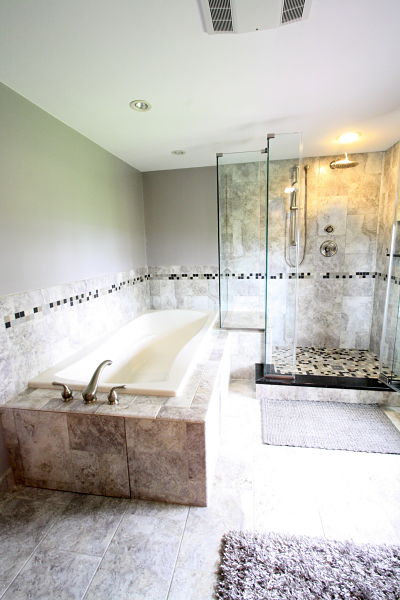 5. Install a new countertop over the existing vanity. The black Cambria countertop with white sink and brushed nickel faucets complement the floor and wall ceramic tile colors.