Is it time to update your kitchen? Changing a few design elements can give an exciting new look to a kitchen. Here are eight design ideas to help you refresh your kitchen with changes that will make a big impact without having to alter the current configuration.
1. Backsplashes
A backsplash is often a focal point in a kitchen and tile selections have never been better. Layouts such as brick/subway, grid, diagonal, mosaic and herringbone patterns are timeless field tile designs. Accent tile adds interest and can be used as an inset or border. White ceramic subway tile is classic and affordable. It remains popular because it works with many kitchen design styles - Traditional, Transitional and Contemporary.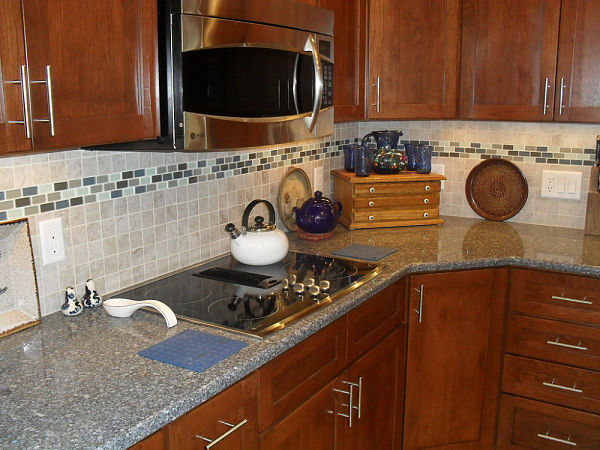 A ceramic tile backsplash, with grid pattern and glass mosaic tile accent, adds color and style and to this kitchen.
2. Countertops
Replacing countertops is one of the most popular kitchen update projects because it can have a transformative effect on the look of the kitchen. Countertop manufacturers and fabricators continue to improve their products. If you haven't looked at countertop products in a while, you should be delightfully surprised at what you will find today.
Granite countertops remain popular with homeowners because of its beauty and durability.
Quartz manufacturers such as Cambria and Caesarstone have expanded their palettes. Cambria recently added nine new patterns, and now offers 122 surfaces to choose from. Caesarstone introduced 10 new patterns to its line of 52 quartz surfaces.

Laminate manufacturers have greatly improved their products and offer an affordable option to natural stone and quartz. High definition laminates produced by Wilsonart and Formica provide the look of granite, marble and soapstone. New edge options for laminate counters eliminate unattractive brown cut lines.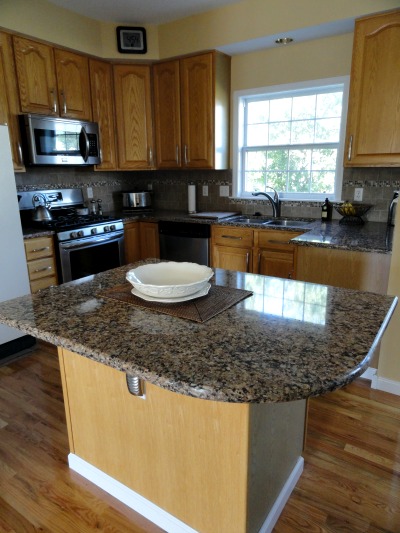 A Cambria quartz counter surface on the island and perimeter cabinets, a new stainless steel sink with a brushed nickel faucet and new cabinetry hardware update this kitchen.
3. Sinks
A timeworn sink can have a dulled surface, chips, scratches or darkening around the rim. If your sink has become an eyesore, replacing it can have a significant impact on the look of a kitchen.
Sinks come in many colors and materials:
Composite sinks are becoming more popular among homeowners because they are attractive, easy to maintain and complement décor.
Farmhouse sinks with an apron will add an architectural element to a kitchen.
Stainless steel sinks augment appliances and popular brushed nickel finish cabinet hardware.
Cast iron sinks with enamel coating are attractive, very durable and easy to maintain.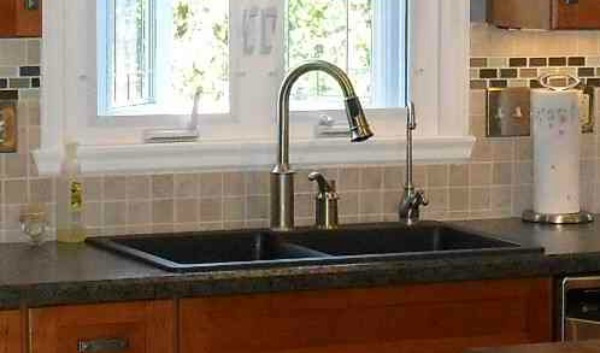 A dark brown cast iron drop-in sink blends with the laminate counter surface of this kitchen and becomes an architectural element.
4. Flooring
Replacing or refinishing a floor instantly provides an updated look to a kitchen, especially if the flooring has not been refurbished in many years. New flooring products to consider for your kitchen include luxury vinyl, engineered hardwood, reclaimed hardwood and large tile.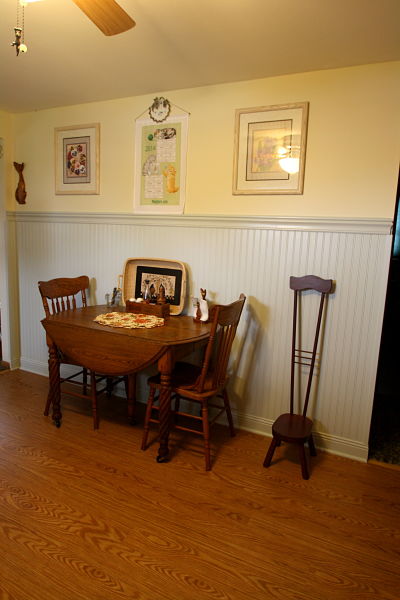 Engineered hardwood flooring with an oak grain finish was used in this kitchen.
5. Paint Colors
A new paint color on walls, cabinetry and trims can dramatically change the appearance of a kitchen. Color is your personal statement and we've compiled a free homeowner's guide that features tips for color selection and shows you how color visualizer tools developed by Benjamin Moore, Sherwin-Williams and Pittsburgh Paints can help in your selection process.
Cambria and Benjamin Moore have collaborated to match paint colors to counter surfaces. You may find the color choices selected by their design team interesting.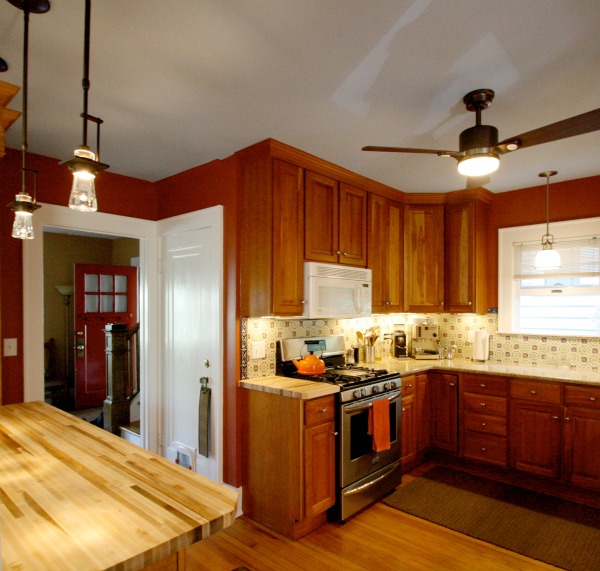 The walls of this kitchen update were painted a coral-red, "Mexicana" 2172-30, to complement hand-painted Mexican tile. The ceiling was painted a soft blue "Bluebell" 2064-60 to warm the room. Both paints are from Benjamin Moore.
6. Cabinet Hardware
Changing cabinet hardware is a quick kitchen update. We now offer "Top Knobs," a diverse line of knobs and pulls for cabinet doors and drawers with 30 product collections and 37 finishes.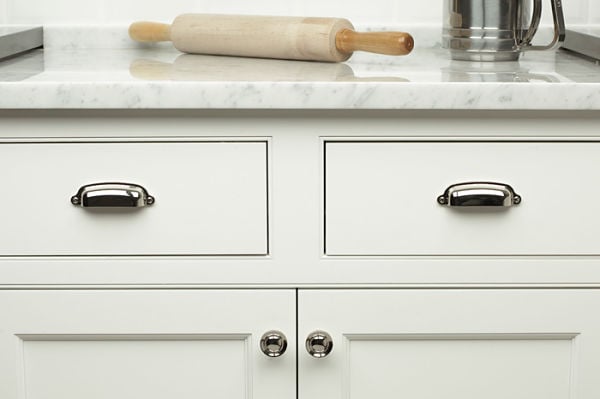 A kitchen island with cup drawer pulls and round cabinet knobs in chrome from Top Knobs. Photo courtesy of Top Knobs.
7. Light Fixtures
In older kitchens a light in the center of a room and a window over the sink were the primary sources of illumination. In today's kitchens lighting is dispersed throughout the room through recessed lights that provide general lighting, task lighting over work surfaces and ambient lighting. Since incandescent bulbs are being phased out and replaced with compact florescent bulbs and LED lighting, it may be the time to replace outmoded fixtures.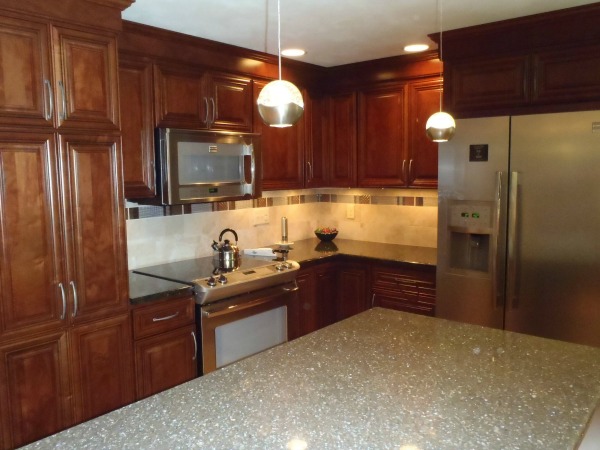 Pendant lights placed over an island, recessed lights and under-cabinet lighting illuminate the work areas of this kitchen.
8. Inserts, Pullouts and Carousels
Improving storage by adding accessories to cabinetry to reorganize contents and contain clutter can be factored into a plan to update a kitchen. Drawers can be made more functional by installing inserts and dividers to organize utensils, spices and even plates. Pullout accessories and shelves can be installed in existing cabinets to ease access and enable you to better organize and view contents.
We carry a line of kitchen storage units and accessories that you may want to check out. Rev-A-Shelf is another source for a variety of pullouts, Lazy Susans (carousels) and inserts in both wood and metal materials.
Easy access pullout shelves.