Do you feel like your home needs more space? Are you considering a home addition?
Popular home addition projects include master bathrooms, master bedroom suites, family rooms, sunrooms, mudrooms, kitchen additions, two-story additions and second-floor additions.
If you are planning to add more living space to your home, where do you begin?
Even though you may have been thinking about your project for a while, it's important to make notes about your goals before meeting with a design-build professional.
seven basic questions you should ask yourself and discuss with your contractor before starting a home addition:
1. What type of space do you need to add to your home?
List your ideas for the project. For example, if you are planning a kitchen addition, describe how much space you hope to add and how it will be used. Will the addition serve as a place for dining or an expanded area for cooking and storage? Will you need more room for appliances such as an additional oven or refrigerator?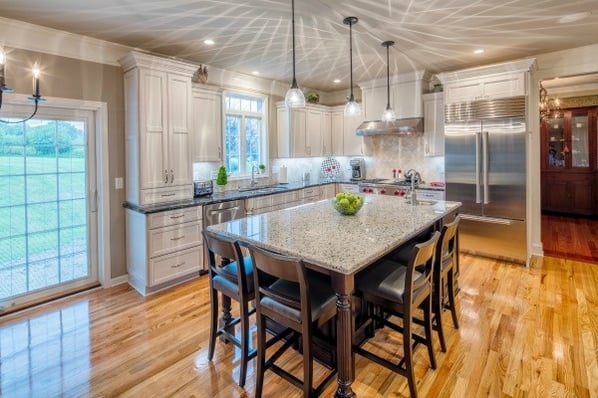 A large island is the centerpiece of this stunning and practical kitchen addition designed to add more space for cooking, dining and for upscale appliances. Three pendant lights illuminate the island and there is ample seating. The homeowners selected wood stained cabinet base units and a white patterned granite countertop for the island to contrast with the painted white perimeter cabinets with black granite counter surfaces.
2. Where do you want to build the addition?
Think about how the addition might be integrated with the existing structure of your home and its locale.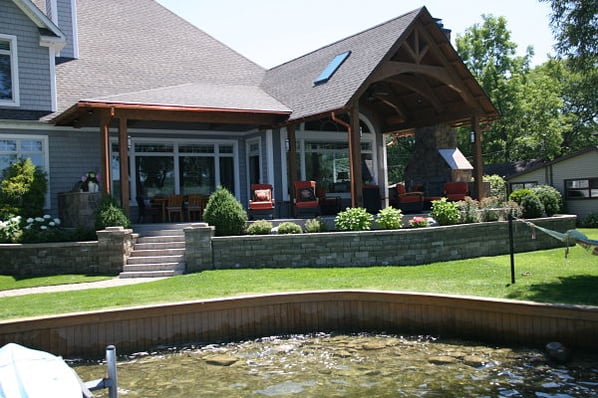 This open porch addition built onto a lake cottage provides a multi-purpose outdoor living space and a spectacular lake view. We also built the steps, pillars and reset the retaining wall to complement the addition.
3. What are the key architectural features that you want to add?
Your addition should be designed to complement the existing features of your home both inside and outside.
Exterior architectural features of an addition include the roofline, shingles, siding, stone work and the design of the entry.
Interior architectural features may include beams and posts, fireplace details, flooring transitions, windows, skylights and doors.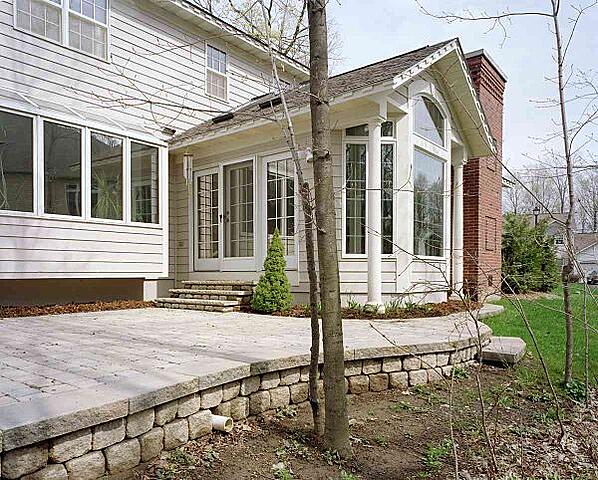 The exterior of this living room addition incorporates all of the existing architectural features and details, making it appear as if it was part of the original home.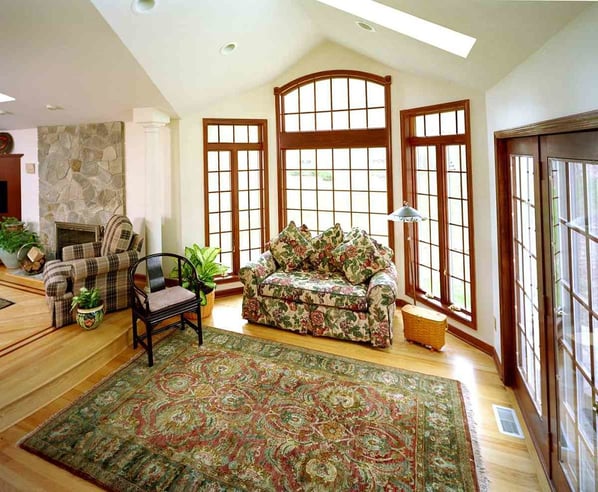 This is an interior view of the living room addition shown above. The step down threshold adds a new dimension to the interior space of the home. Large windows and skylights provide plenty of additional natural light.
4. Who will be the primary users of the space?
In designing an addition consider the people (and pets) that use it and how they will use it, particularly those who may have special needs.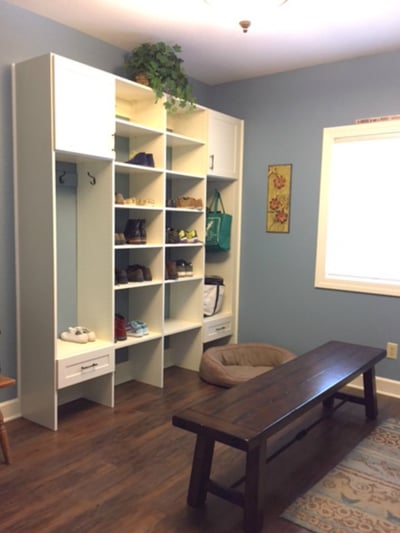 This mudroom addition was built for an active family with pets. Customized shelving was installed to provide organized storage. The durable flooring is resistant to damage caused by water and dirt and can be cleaned easily.
5. What amenities do you plan to add?
Amenities and furnishings should be factored into the design of the addition. These include seating, appliances, electronics and fixtures.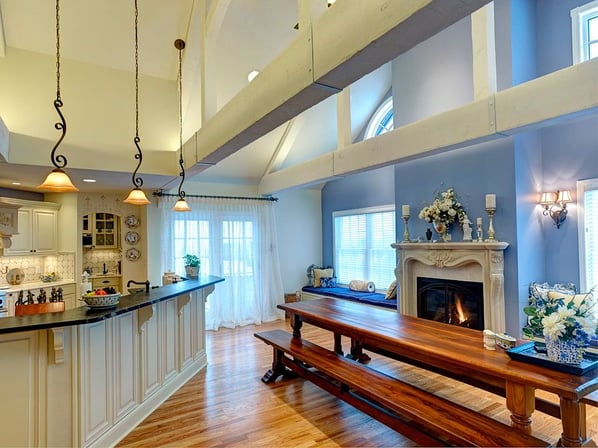 This multi-purpose kitchen/family room addition has many amenities. The Old Stone Works fireplace mantel matches the range hood. The fireplace is a gas Heat and GLO 6000 series that has a remote control for every function including flame height, room temperature, and interior lighting of the firebox.
6. What is your budget?
It is helpful to have an idea about how much an addition will cost.
One of the best industry sources for remodeling cost information is Remodeling Magazine's "Cost vs. Value Report". The report surveys remodeling contractors from throughout the country about the cost of 35 specified projects. Data is presented for national averages, regions and for select cities including Syracuse. The information will provide a general estimate of what you might expect to pay for your project if the specifications are similar.
7. What types of professionals will you need for your project?>
Building an addition requires the skills of many professionals. An architect will be needed to produce the architectural drawings. A general contractor or several contractors will also be required to execute the various phases of the architect's plan.
While you could choose to manage the project yourself, most homeowners choose a design-build firm to manage all aspects of their project.
"Design-build" combines project design, product selection and construction into a seamless process. A design-build remodeler manages everything, including architectural drawings, construction and installations. They also deal with all day-to-day tasks such as ordering, scheduling and addressing any unexpected obstacles that may occur along the way.
Many homeowners who are planning an addition prefer this method because it provides them with a single point of contact for all aspects of the project and better control over costs and accountability.
For more information download our free homeowner guides: How to Hire a Contractor and Home Addition Planning Tips and Design Ideas.