A new year means new design trends for your home. If your kitchen needs an update, now is the perfect time to look at what's trending in 2019 so you can stay ahead of the curve, and have a kitchen that's both functional and stylish. There are several new kitchen design trends that show no signs of going anywhere soon. Whether you want to give your space a modern pop of color, or you're envisioning a simple yet rustic atmosphere, the new ideas we provide below provide something to suit every style and will help you create a room you'll love.
1) Pops of color and texture
Pure white kitchens are becoming a thing of the past, making room for bright pops of color and textures to add interest and even a touch of whimsy to your kitchen. Bright colored cabinetry is a welcome change of pace in 2019. Patterned or textured tiles make for eye-catching backsplashes. Even kitchen appliances are coming in fun shades of colors outside of your typical black, white, or stainless steel themes.
2) Dark color palettes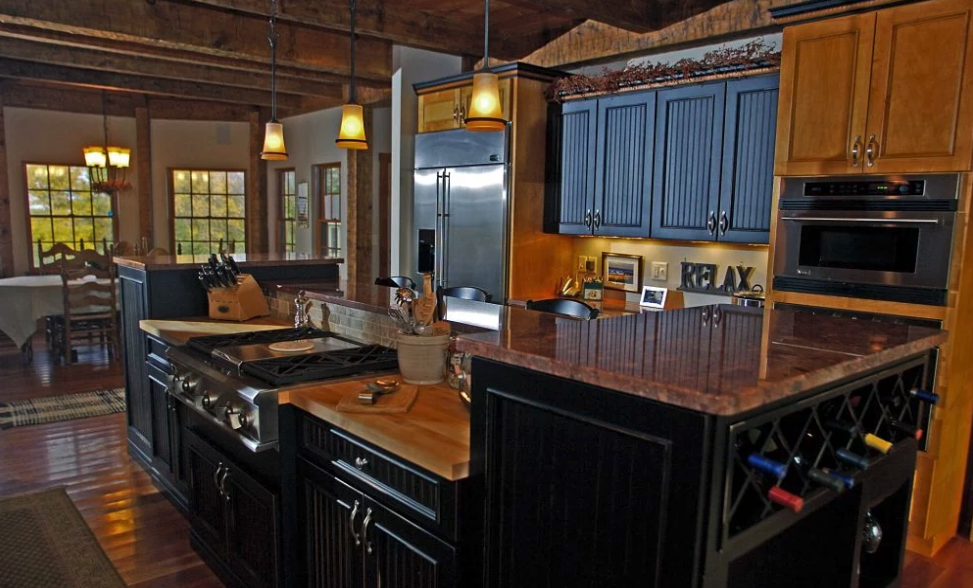 If bright colors don't match your home's style, or you're seeking out a more elegant look, you could also go with a darker color theme, utilizing deep greens, blues, and even black. Darker colors in the kitchen are becoming more popular, and are rapidly taking the place of the more traditional all-white kitchen.
3) Use of more raw materials
In 2019, stainless steel is becoming slightly less popular while more raw materials like stone and wood are becoming more common. Both materials can add a warm, rustic and cozy feel to even the biggest kitchens, whether they're used as countertop surfaces, backsplashes, or flooring.
4) Kitchen Islands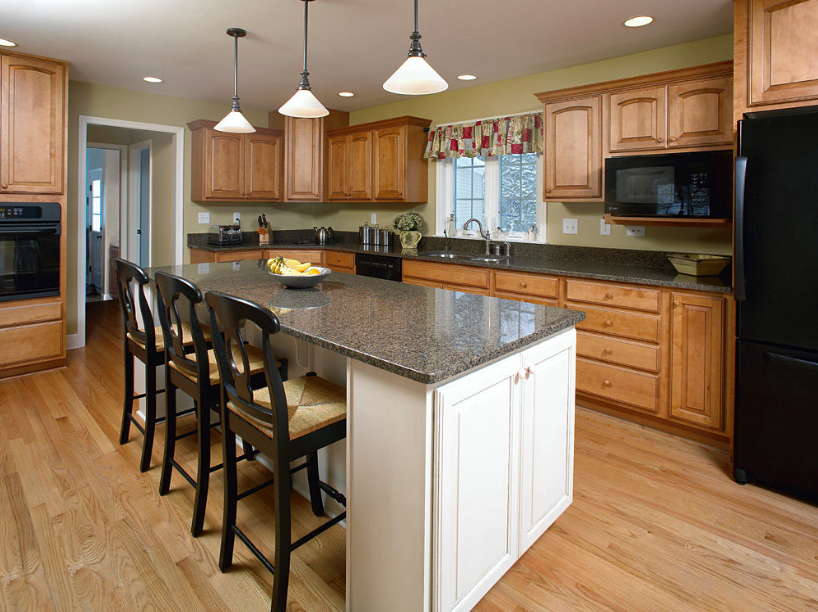 Popular in 2018, the kitchen island trend shows no signs of slowing down. Instead, kitchen islands have become an even more common fixture in the modern kitchen, serving multiple functions. Kitchen islands can allow for additional storage space, more work space, or a casual place for family members and guests to gather.
5) Integrated appliances & concealed storage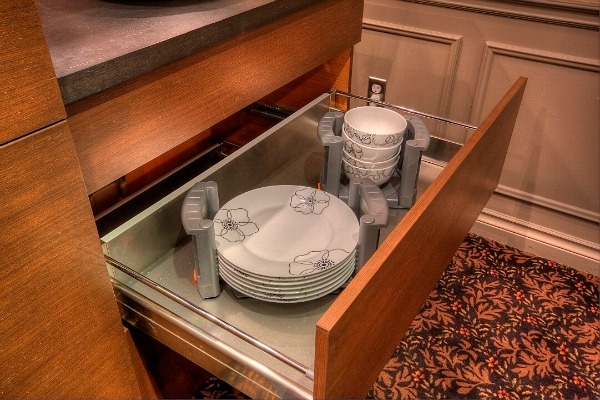 If you favor simplicity, streamlined kitchens are another design aesthetic that continue to gain popularity. In 2019, this style incorporates elements of "hygge," a Danish concept of coziness and comfort, into the "less is more" mindset. Built in storage options, the elimination of upper cabinets, and appliances that are discreetly tucked away rather than being left out on countertops all provide a clean, updated feel. If you don't want to do away completely with upper storage, open shelving provides another simple alternative to traditional cabinets.
Are you ready to begin your kitchen renovation? Our experienced team of design-build experts can help! At McClurg, we've been remodeling homes for 35 years. We do everything from repairs, to home renovation and additions. Contact us today to learn how we can help you make your kitchen renovation dreams a reality!