Front entries define the look of a house. Real estate agents will tell you that curb appeal can add value to a home and helps to attract buyers.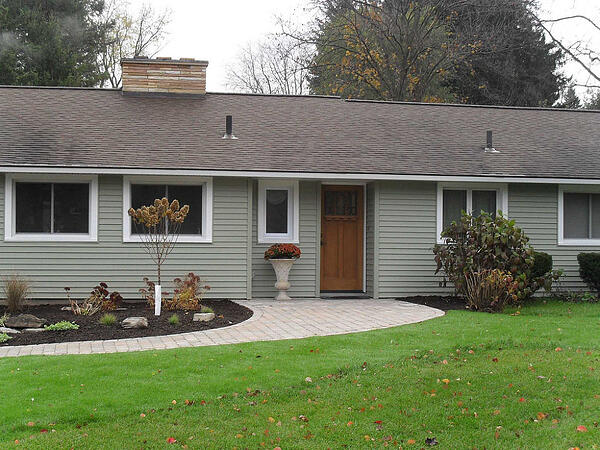 Here are five front entrance design ideas from homes in Central New York that show how an updated front entry can transform a home.
1. Siding, door replacement and landscaping.
The original facade of this DeWitt ranch-style home included a flat roof overhang, an old limestone porch and original cedar siding. Two front doors made it confusing to guests as to which door to enter. The front of this house was completely transformed with new vinyl siding, aluminum trims, Thermal Industries windows, a brick sidewalk and new landscaping.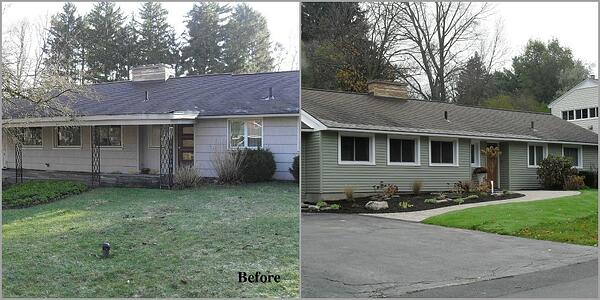 Before and after photos of this home show the remarkable transformation. A time-worn façade depreciated the home's value. After renovation the home was brought up-to-date with an inviting entry.
2. An arched roof entry, vinyl siding, new windows and a bright door color.
The owners of this cottage located on Oneida Lake remodeled the home both inside and out in "Coastal-style." The exterior of this home was given a new look with an arched roof entry, Cape Cod gray vinyl siding, new windows and a bright turquoise blue door.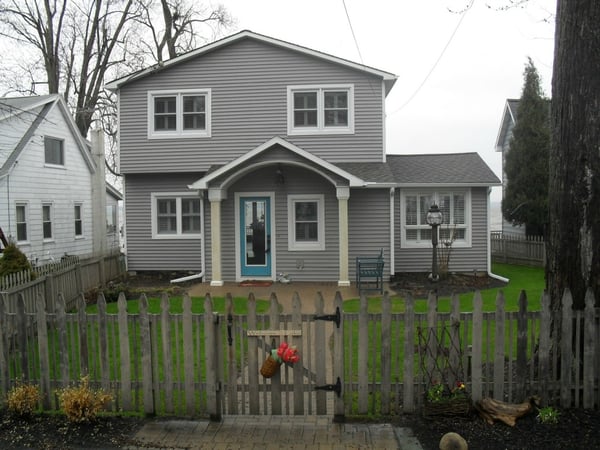 This covered entry features an arched roof supported by white columns that complement the architecture of this lakeside cottage.
3. Columns and a new door.
Front entry updates can augment the architecture of a home and add both interest and function. Columns were added to the existing covered entry of this colonial-style home to enhance the look of the home and provide additional support to the overhanging roof.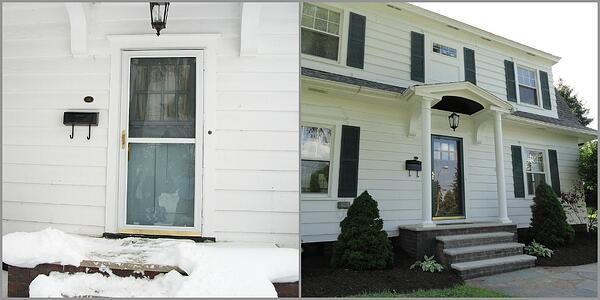 Before and after photos of this home show how columns and a new door transformed this front entrance from ordinary to elegant.
4. Adding architectural style with a front porch remodel.
It's amazing how an entryway can change a home from ordinary to extraordinary. Ranch, cape-style and colonial homes can take on an entirely new appearance. Here are two examples of how a new roofline extending out from over the front door dramatically changed the facade of these ranch-style homes.
Douglas fir posts and an arched truss were added to this home to create a Craftsman-style front porch. Stained wood, masonry and lanterns provide the look desired by the homeowners.
The siding and stone façade of this ranch home were key architectural elements that are enhanced by a Craftsman-style entry.
In this second example of a renewed ranch, a porch roof bump-out transformed an entry into the focal point of the home's exterior. The transitional-style porch provides a sheltered entrance and adds columns and stonework to the façade. A charming walkway and bordering gardens create curb appeal for this home.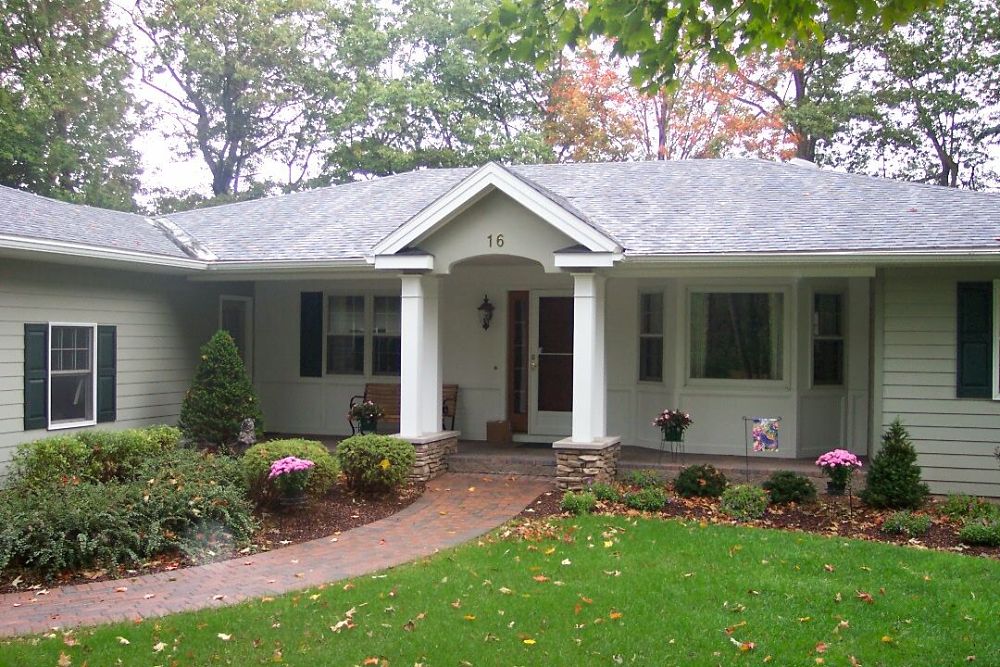 A covered entry with columns and masonry posts add charm to this classic ranch-style home.
5. Door replacement and paint color.
The condition, style and color of a door can either detract from or add curb appeal to a home. A timeworn door ages a home. Adding a door with sidelights can create architectural interest in an entryway. Painting a door is an easy and affordable way to enhance your home's curb appeal.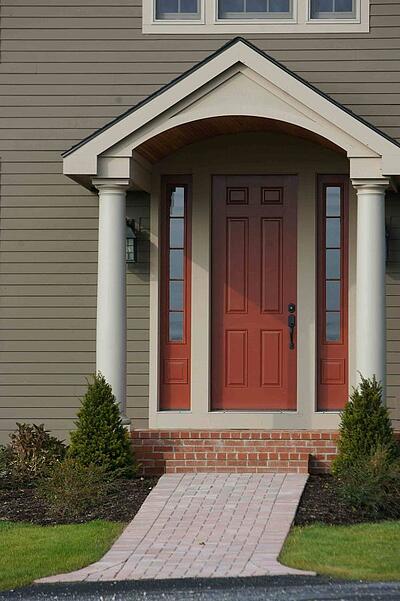 Typically an entry door is 6-to-8 feet tall. This entry door is 8-feet tall and includes sidelights, one on each side. The columns and covered entry provide a grand effect to this entrance. The russet color of the door and sidelights complements the taupe siding and ivory trim.