More homeowners are asking us about "walk-in showers without doors" when they consider remodeling a bathroom. Doorless walk-in showers were featured in several of the new homes showcased in this year's "Parade of Homes" and the trend is growing.
A doorless shower has many advantages. First and foremost, it is easy to maintain and wipe down.
Second, you may have more options for the design and layout of your bathroom since there is no door with a "swing" or frame to factor into the configuration.
Another key advantage is accessibility and safety. Many walk-in showers without doors have a low- or zero-threshold that helps reduce the risk of falls and tripping when entering or exiting the shower.
Here are four design ideas for walk-in showers without doors that illustrate some popular and unique options:
1. Glass Surrounds
Shower enclosures help retain water but they can also make a design statement in the room. Glass shower surrounds are popular among homeowners for many reasons including ease of maintenance and the visual impact they can make in a small area by creating an illusion of space.
There are a number of style options for the tempered safety glass that is used for showers including clear, frosted, textured and embossed glass.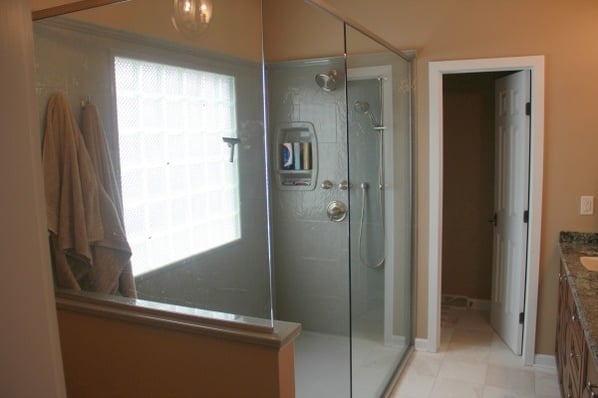 This walk-in shower without a door has a glass surround with a kneewall. The window is diamond cut glass set on a smooth plane within the shower so that water will not accumulate on the framing. A custom Onyx shower base with a low threshold and Onyx shower wall panels with a stone tile gloss finish (Slate Stone 12-by-12 inch tile design in "Spanish Moss") were used for the shower. The shower includes a wall niche, a shower seat, a wall-mounted rainfall showerhead, a handheld showerhead and a sealed can light in the ceiling. See before and after photos of this project.
2. Creative Custom Tile
Since most walk-in showers are custom designs, many homeowners choose tile for the surround, base and entry. Tile is also a good option for a shower bench and for the ceiling.
When selecting wall tile for a bathroom, consider who will use the bathroom and how they will use the space.
There are many tile patterns, materials, shapes, sizes and an endless array of colors that you can use to customize your shower.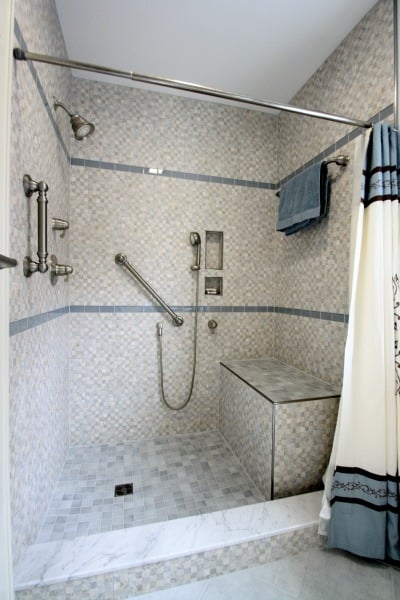 The custom tile base for this walk-in shower was designed to be integrated with a shower seat. Note the length and height of the threshold. Water and sprays can be contained but a curtain was added for privacy. Universal Design features include grab bars, lever-handle faucets, a large seating area and a hand-held showerhead with a faucet that can be controlled while seated.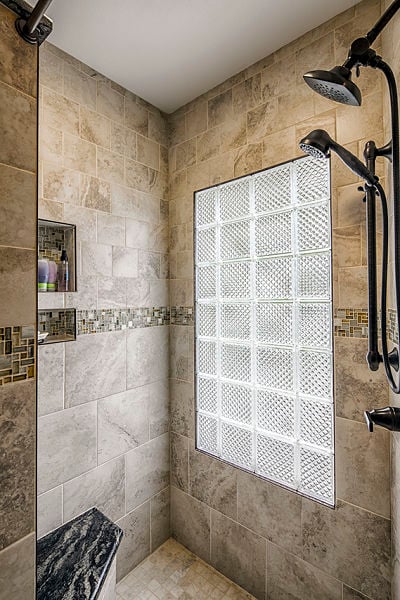 This doorless walk-in shower has a glass block window that brings natural light into the space. The shower wall tile is "Roman Travertine Classico" Mosaic Glazed Porcelain tile. A brick pattern was used with 12-by-12 inch tile on the lower walls and 6-by-6 inch tile on the upper walls. The art glass mosaic accent tile used on the shower walls is "Gendai Mila" from Best Tile. See before and after photos of this Project of the Month.
3. A Custom Fit for Small Spaces
Walk-in showers without doors can be installed in small spaces and corners in a bathroom. The most important element is the shower base and in small spaces a custom base most likely will be required.
Custom tile bases are designed to conform to the space where the shower is located.
Custom manufactured shower bases are cast to order. They are commonly constructed with a solid surface material such as Onyx. Templates are made before the base is cast to assure a perfect fit.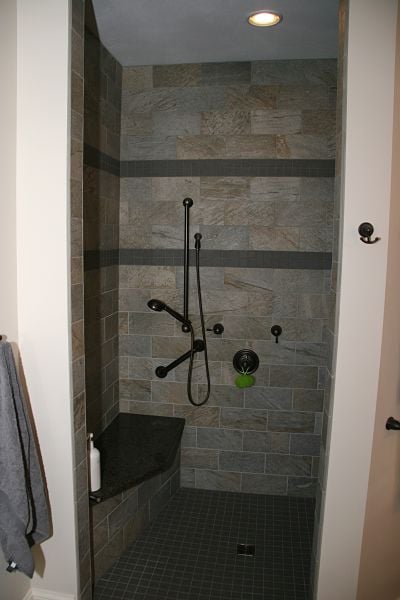 This doorless shower in a master bathroom is equipped with Universal Design features including a handheld showerhead, lowered controls, grab bars, a slip-resist tile base, a recessed interior light and a shower bench.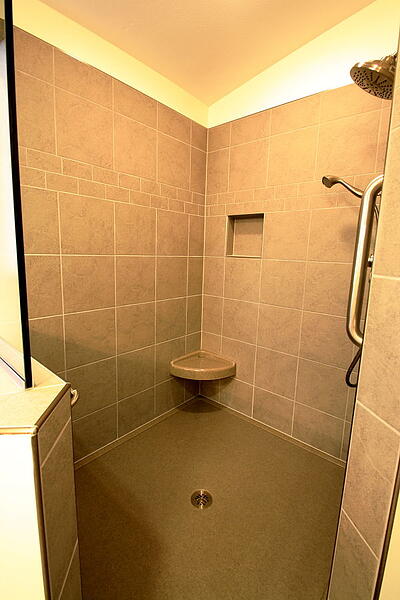 A custom Onyx shower base with a low threshold was selected for this walk-in shower that was built into a corner. A custom-fitted shower seat, also from Onyx, and grab bars were installed for comfort and safety. The custom tile surround has few grout lines and is easy to clean.
4. Glass Block Walls
Privacy and water retention are important considerations when designing a shower for a bathroom.
Glass block walls can be used to create a privacy screen and contain water from the shower sprays. They also add architectural interest and help to illuminate the shower.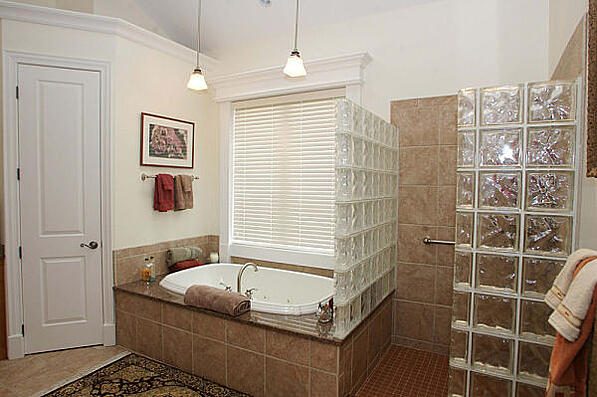 Spa features provide privacy and relaxation in this bathroom. A glass block wall was built to contain the spray of water and separates the custom tile shower from the soaking tub. A grab bar doubles as a towel bar in the shower. The one-inch tile on the floor inside the shower is slip resistant.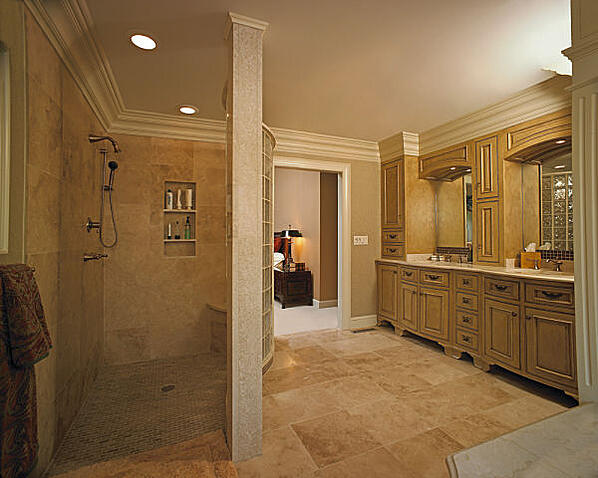 In this award winning master bathroom, a curved glass block wall separates the doorless walk-in shower from the rest of the bathroom. The wall is a dramatic architectural feature that is a focal point in the room.