Receive Home Remodeling Design Ideas, Delivered Free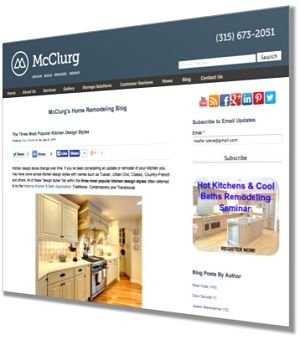 Join more than 1,000 others and subscribe to McClurg's Home Remodeling Blog to receive expert commentary on the latest design trends, products, features and techniques.
Our blog covers everything you need to know about remodeling your Central New York home. We discuss kitchens, bathrooms, basements, additions, storage, decks, lighting and much, much more.
Get weekly articles like these and more when you subscribe:
Project of the Month
The Hottest Interior Room Colors
Our Picks for the Best Bathroom Design Trends
10 Hot Trends in Kitchen Design
Awesome Basement Storage Ideas
Subscribing is free, and you can always unsubscribe whenever you want.