NYS Senate Liberty Award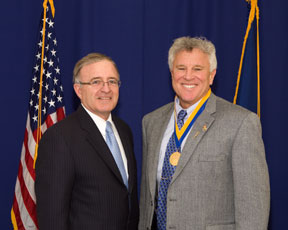 On January 31, 2008, Senator John A. DeFrancisco presented Scott McClurg with the New York State Senate Liberty Award, which is the highest honor bestowed upon a New York State civilian for their actions on behalf of their fellow New Yorkers and their community.
Senator DeFrancisco recognized Scott for his dedication to a local family in need and his service to the community.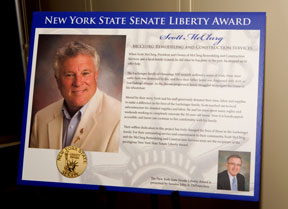 "The Luchsinger family of Onondaga Hill suffered a series of trials when their dairy farm was destroyed by fire and then father Jamie Luchsinger was diagnosed with ALS or Lou Gehrig's disease," said Senator DeFrancisco. "Scott McClurg was moved by their story, and with the help of his staff he completely renovated the Luchsinger's thirty-year-old home to make it handicapped-accessible for Jamie."
Scott graciously accepted the award on behalf of McClurg's employees and nearly 40 subcontractors and suppliers who donated labor, materials and money to complete the home renovation.